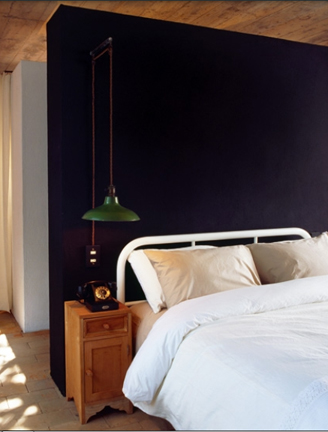 Vintage Shallow Bowl Pendant Perfect Fit on Classic Pulley
Many people like the look of a wall sconce or a cord hung pendant by the bedside not only for the aesthetics but to eliminate unnecessary clutter on the nightstand. Take this beautiful porcelain shallow bowl pendant for example. It has loads of vintage charm with the added distinction of being hung on a classic trolley to bring the fixture away from the wall. This light is very similar to our Ivanhoe® Sinclair Porcelain Pendant. With its tough and shiny porcelain green exterior and a bright white interior, this vintage light will add a warm touch to your bedside, reading nook, or study.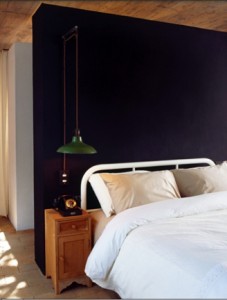 At Barn Light Electric we take great pride in finding and restoring some of the most highly sought-after vintage light fixtures today. Our extensive selection spans a wide range of designs and styles beginning with the early barn light styles that were first manufactured in the early 1940s. And while the styles vary, you can still choose from many options to customize your "new" light.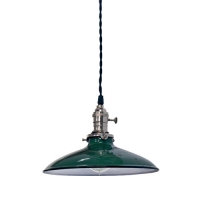 For example, our 10″ Ivanhoe® Shallow Bowl Pendant comes with your choice of four different cotton cord colors. The cord length can range in size from 24″ to 60″ long to fit almost any setting. The socket and ceiling canopy can be customized in either a polished nickel or unfinished brass finish and you may select a knob or turn key for operating your light. And if you're going for the classic vintage look, be sure to add a nostalgic Edison Style Light Bulb to your order. These bulbs come in a variety of styles including a Victorian-era quad loop, an 1890-era horse shoe style, or a 1910-era squirrel cage.
To ensure the best quality and functionality, all of our vintage barn lights have been cleaned, rewired, and are ready to install when they arrive at your door.
Top Photo Courtesy of Remodelista