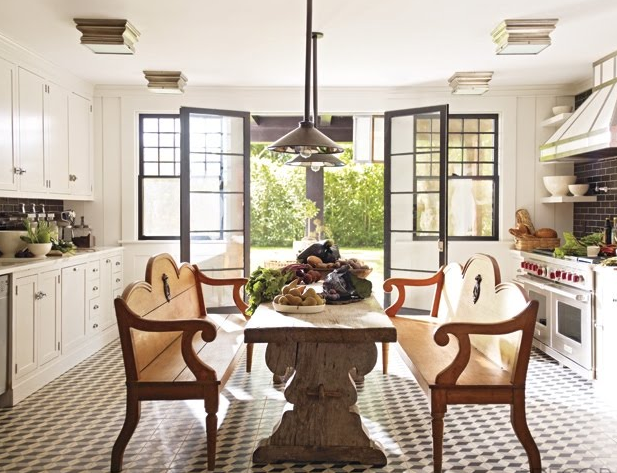 Hamptons Style Kitchen & Lighting Options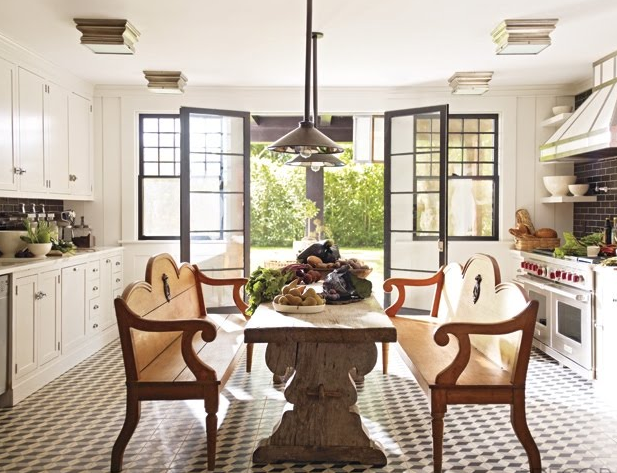 Photo Courtesy of Elle Decor
Many can only dream of a summer home in the Hamptons, but some of their designs are easy enough to incorporate into your own home. Whether you have a big or small renovation budget, simple touches can bring this look into your home.

Stark white walls and cabinets bounce around the natural light let in by the windows. Not everyone is lucky enough to have such a large kitchen, so by using plenty of white, your space will appear open and fresh. Resembling that of Escher, stark black and white concrete tiles make up a repetitive, geometric pattern that moves the eye into the direction of the beautiful French doors. Slate gray trim outlines the also geometric patterns of the window panes. Without darkening up the room, this color scheme is continued again with the coordinating black subway tile backs plash. Rather than making a space feel smaller, it actually helps to define the room's outer edges, increasing your perception of the overall actual size. Unique bench seating sits centered above, but for additional guests or more traditional seating arrangements, try collecting a variety of weathered wood-toned country chairs.
Although this kitchen has a simple, countryside feel, the lighting is elegant and appears to be pricey. Barn Light Electric offers a variety inexpensive lighting options – helping you to achieve this, or any style look. Keeping with the square, geometric theme, the four flush mount ceiling lights secretly mirror the window panes. Our Andover Flush Mount Ceiling light in Historic or Polished Nickel finish will provide you with a similar look and will provide plenty of overhead lighting for entertaining. Over the table stem two unique pendants similar to the Barn Light Shallow Bowl. Several finish choices would compliment this space beautifully – Black, Bronze, or even Copper. For adjustable, more romantic lighting, try setting your light switches on dimmers. At Barn Light Electric, the Andover Flush Mount Ceiling Light sells for $359.00 and the Barn Light Shallow Bowl Pendant starts at $119.00.