Galvanized RLM Pendant Lighting For The Industrial Cafe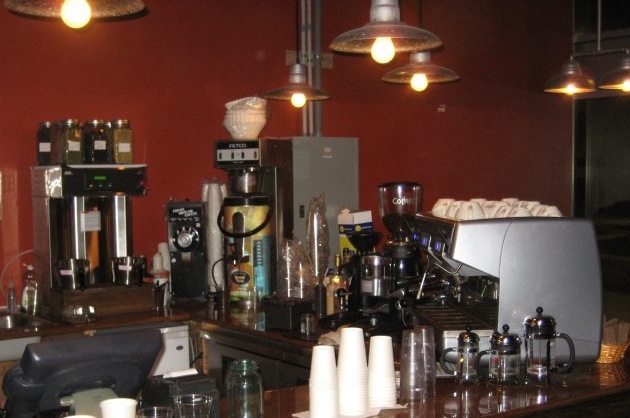 Photo courtesy of Slow Train Cafe
We've said it a million times – we love receiving customer submission photos! Today's photos come from Jessa in Oberlin, Ohio. She and her family own the newly opened Slow Train Cafe. This isn't your typical Starbucks or Dunkin' Donuts, The Slow Train Cafe is a locally owned coffee house and music cafe. Just as their mission statement says, they are committed to enhancing their community through local, organic, and sustainable products, a welcoming atmosphere, and great live music! From what we've gathered on their Facebook page, their customers are loving their new hangout. After only being open for a couple weeks, they've received raving reviews on their employees, baked goodies, music, and overall atmosphere.

Adding to the atmospheric charm of this budding business are none other than a few of our own barn lights. Jessa contacted us a few months ago while shopping for lighting and informed us of her charming new establishment. Among her selections were several of our popular pendants and chandeliers.
Most noticeably in the photos you'll recognize our Shallow Bowl cord hung pendants in a Galvanized finish. These sleek industrial light fixtures were also the choice of The Lexington Avenue Brewery in Asheville, North Carolina. Since the bar and table heights vary, by choosing our black cord hung option, both businesses were allowed to adjust the final length of their pendants to customize each locations atmosphere. The Shallow Bowl Warehouse Pendant is available in numerous shade sizes and can be customized in over 50 finish options! For a truly unique look, add an optional Wire Cage or Guard and Glass attachment.
Also on the list for The Slow Train Cafe were The Mason 2 Light Chandelier, The Saddlebred 3 Light Chandelier, and several Wire Guard Industrial Pendants. Each chosen in the coordinating Galvanized finish, these fixtures bring together a uniform and cohesive vintage feel with exposed duct work and salvaged retro bar stools.

Photo courtesy of Slow Train Cafe