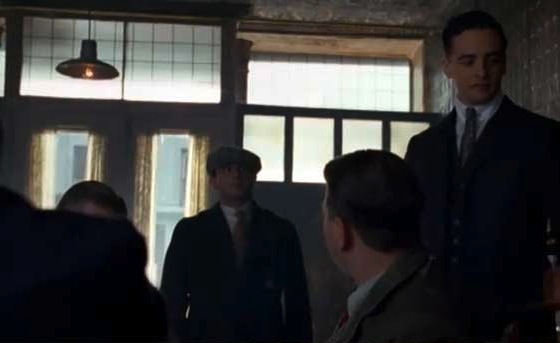 Shallow Bowl Pendant Used In HBO's Boardwalk Empire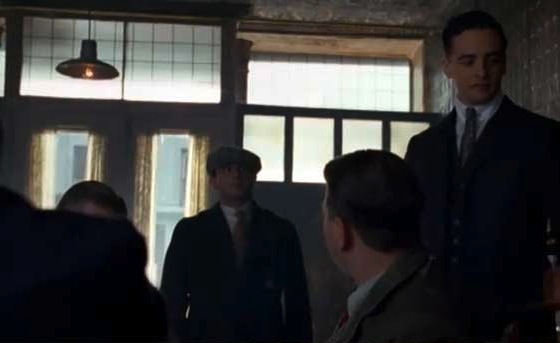 If you've been following HBO's Boardwalk Empire, you may have noticed a few vintage barn lights used in new hit series. In these photos, a Shallow Bowl Pendant from Barn Light Electric Co.® hangs above the entryway. These images come from Boardwalk Empire episode 7, also titled "Home."

In this scene, Lucky Luciano and Meyer Lansky is meeting with the D'Alessio brothers and Mickey Doyle as they plan their scheme to take down Lolly Steinma's casino. Shallow Bowl Pendants and other vintage inspired lighting reflect the prohibition era. The production team includes Executive Producer Terence Winter and Production Designer Bob Shaw – two professionals in the entertainment industry who are known for their meticulous attention to detail.
Shaw and Winter used a variety of vintage industrial inspired lights to recreate scenery of the "Roaring 20's." In addition to the Shallow Bowl Pendants, many other lights are used which are very similar to the Vented Warehouse Pendant and the Barn Light Electric Co.® Ivanhoe® Sinclair Industrial Porcelain Pendant.
Barn Light's Shallow Bowl Pendant is available with shade sizes ranging from 12 to 18 inches and can be mounted with a cord, stem mount or flush mount. Optional accessories include wire cages and cast guard units. Although the Shallow Bowl Pendants are available in well over 50 finish options, the set designers of Boardwalk Empire chose a traditional galvanized finish for their cord hung pendants.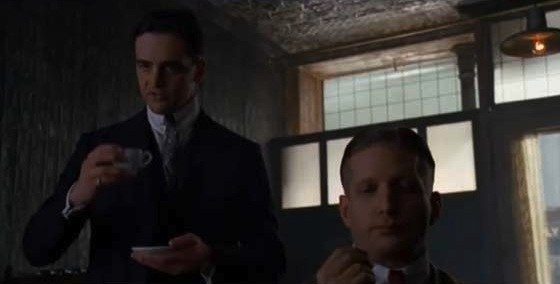 For more information, refer to earlier blog posts on Shallow Bowl lights, including:
Galvanized RLM Pendant Lighting For The Industrial Cafe: At the Slow Train Cafe in Oberlin, Ohio, you'll recognize this cord hung pendant in a Galvanized finish.
Shallow Bowl Pendants Light Up Local Brewery: The Lexington Avenue Brewery chose a 12-inch shade in a Galvanized finish. Mainly placed over the bar and table areas, the pendants quietly drop in from the exposed ceiling using our black cord option.
Hamptons Style Kitchen & Lighting Options: Two unique pendants similar to the Barn Light Shallow Bowl, hang over the table of a countryside kitchen with Hamptons style decoration.