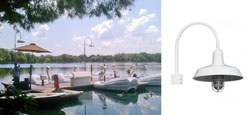 Post Mount Lights Found at Orlando's Historic Lake Eola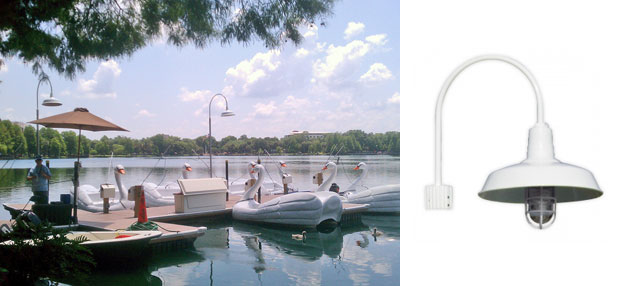 In the heart of downtown Orlando's business district, you'll find Lake Eola. The park is a calm and serene area that happens to be a favorite lunch spot for area workers as well as nearby residents who enjoy escaping the hustle and bustle of city life. One of the most popular areas of the historic park is Swan Boat Pier, where visitors can paddle around in over sized swan boats! Mirroring the swan's curved neck, a couple gooseneck post mount lights are lined against the dock's walkway.

One glimpse of the post mount lights and local residents are transported back to the early 1900's when the park was home to a zoo, horse race track and a dance hall. Today, the lake is known for its waterfront amphitheater and its central floating fountain.
Upon checking in at the rental kiosk, guests walk down the floating dock to their assigned boat. Keeping the walkway well lit for patrons are a style of tall gooseneck lights called post mount lighting. These outdoor lights resemble our own P-1 Post Mount Exterior Light. Selected in a white powder coat finish to match the elegant birds below, the P-1 Post Mount is designed around popular vintage RLM warehouse shades. They were the perfect choice not only for their looks, but for their durability to survive Florida's heavy rain storms!
Lake Eola isn't the only waterfront setting where you'll find post mount lights. You may recall our blog about the Gecko House in Key Colony Beach, where a similar P-1 was installed along the back seawall.
Fun facts about Lake Eola:
1.) The "lake" is actually a sinkhole.
2.) The park was established in 1888 when the first parcel of land was donated to the city of Orlando by several families.
3.) The famous Linton E. Allen Memorial Fountain stopped flowing in 2009, when it was struck by lighting.