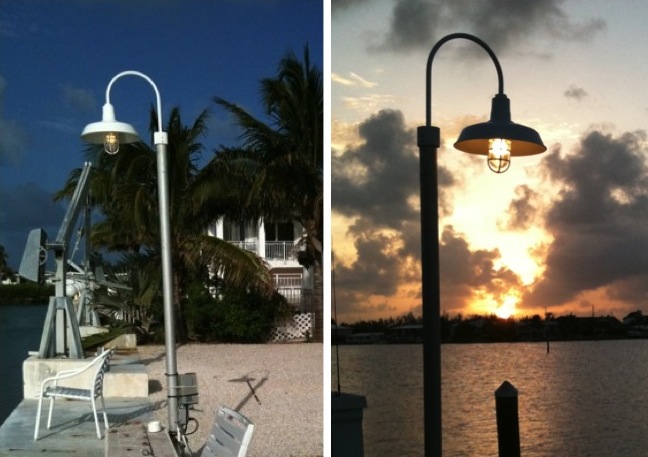 Dock Lighting – The Gecko House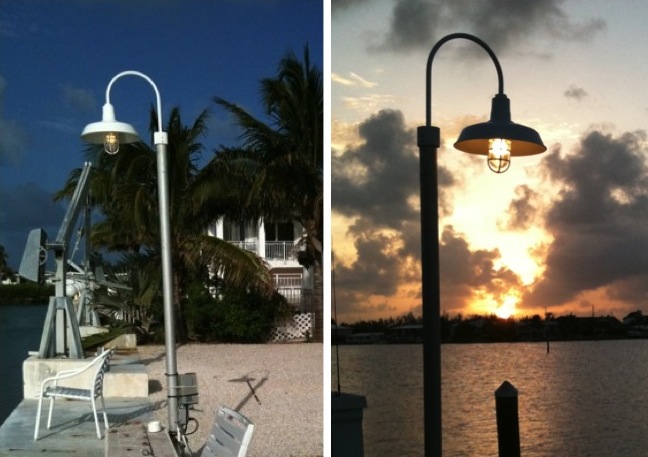 Shown above: Barn Light Electric P-1 Outdoor Post Mount Exterior Light, 93- White, 18″ Warehouse Shade, Cast Guard and Clear Glass, $386.00 each (Light Poles sold separately)
Located just 45 minutes from Key West, Florida on Key Colony Beach, you will find The Gecko House. Overlooking the scenic Shelter Bay, The Gecko House is home to picture perfect sunsets, calm breezes, and 100% relaxation. This newly renovated spot has a pair of, two bedroom/ two bath apartments – enough space for a romantic getaway or a multi- family vacation. When you're not laying by the pool, or fishing off the dock, some of the area attractions include: Key Colony Beach Golf Course, the white sands of Inch Beach, Bahia Honda State Park, and the very famous, Duval Street in Key West.

Lining the perimeter of the water and private dock are some of our very own Post Mount Barn Lights. Their unique appearance has a way of standing out against blue skies, palm trees, and golden sunsets. During the day, the light is not often needed, but at dusk, this fixture begins to light up the waterfront area serving as both, aesthetic and safety features. Here, the combination of a tall light pole and a larger Warehouse Shade join together to create a large, fanned out area of light. Whether you are tying up your boat for the night, looking at the stars, or doing a little late night fishing, having even the smallest of lights will aid you in seeing the edge of the dock clearly.
The P1 Post Mount Exterior Light is available from Barn Light Electric in our Outdoor Post Mount category. Here, The Gecko House had numerous choices to select from, but ultimately decided on the P1 – a white Warehouse Shade with a recognizable Guard and Clear Glass option. Another option to consider with the P1 is the Radial Wave Shade. This too will provide a wide span of needed light, but can also add some fun flair to your outdoor space.