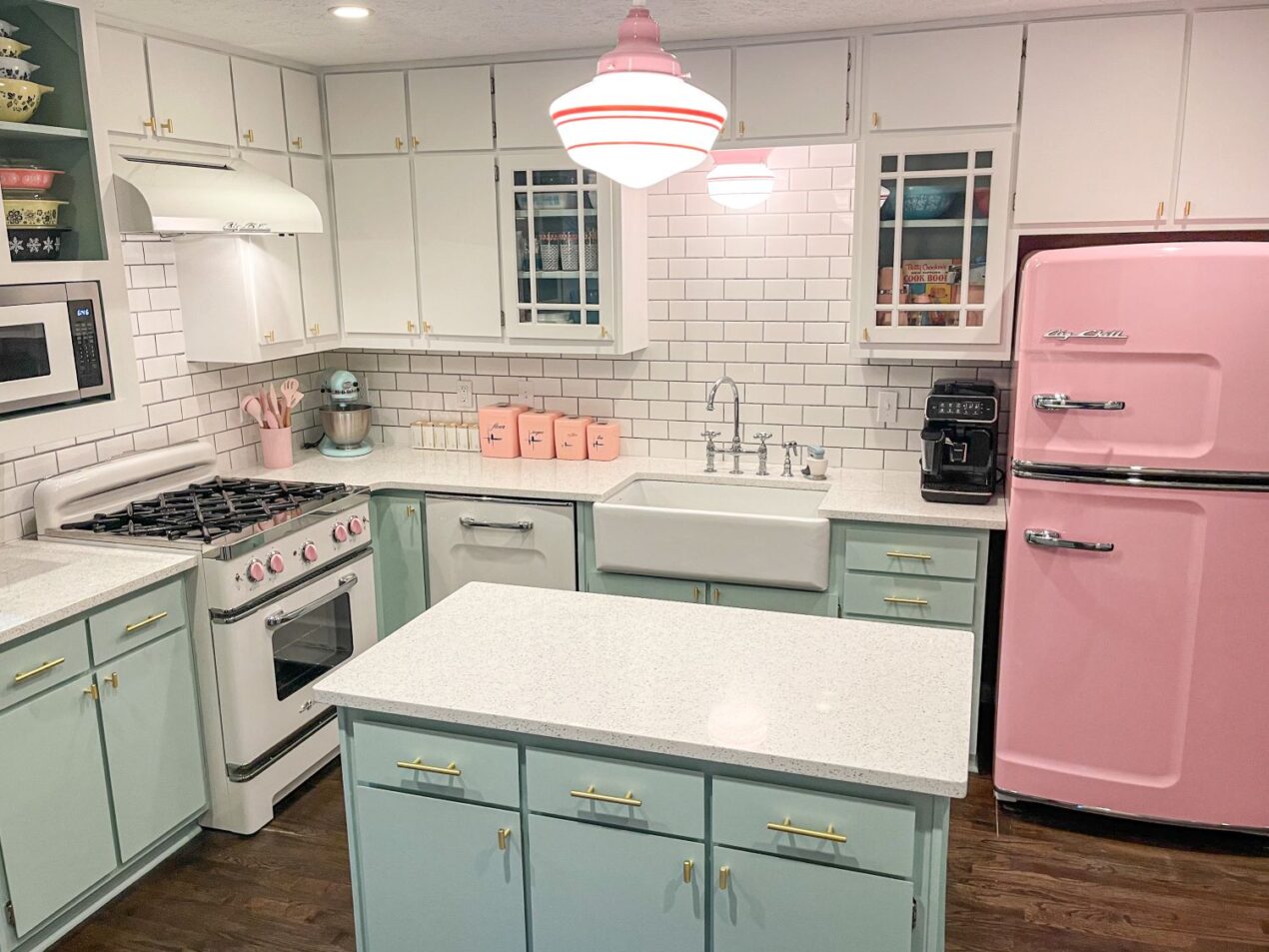 Kitchen Dream Comes True with Vintage-Inspired Schoolhouse Lighting
At the age of 16, Casey had visions of her dream kitchen. It would have a Big Chill refrigerator and all the Big Chill appliances to create a retro-style kitchen.
"Weird, I know," Casey says. "I'm 30 years old but have always had this kitchen design in my head." She and her husband recently tackled a DIY kitchen remodel in the 1984-era home. Here's where they started…
The five-month long project including stripping and repainting all of the wooden cabinets, changing out the hardware, and installing new appliances and lighting. And drumroll please…
The renovated kitchen is right out of Casey's dreams from the Big Chill appliances to the beautiful cabinets that showcase her colorful collection of vintage Pyrex.
"When you think of 1950s style, you think of pinks, blues, whites, and chromes," she notes, "but nobody ever thinks of the light fixtures!" Casey started her search for period-appropriate lighting and came across Barn Light Electric's Schoolhouse Collection.
"I wanted something that felt unique, had character, and could fit into our 1950s theme seamlessly, " she explains. "This is our 'forever' home so we feel a lot of freedom in going with what feels good to us instead of following a trend."
For the island, Casey chose the Primary Schoolhouse Pendant Light. She customized this American-made pendant with large opaque glass, a standard white cord, and triple painted bands of Blush Pink.
"Color was definitely a plus!" she says. "I could only find navy and red options anywhere else, so I was thrilled when Barn Light said they could do the Blush Pink color for me — my dream!"
Over the sink, Casey stayed with the schoolhouse vibe with the Kao Primary Schoolhouse Flush Mount Light. This compact fixture features small opaque glass, a Blush Pink Fitter, and the same triple painted bands as the pendant light.
"I wanted to give this space some love too and add a unique light," she explains. "I think the triple bands look daintier than one single band — I like the look!"
Following Barn Light's Instagram feed proved helpful as Casey made her choices. When she saw that another customer chose the same color combinations, Casey was sold on the look for her remodeled kitchen.
"The lights add so much character to my kitchen, and it truly feels custom. They feel intentional and not just like random light fixtures that came with the house," Casey says. "I love them! They have been a hit with my friends and family, and I have referred all of them to Barn Light!"
Photos courtesy of the homeowner