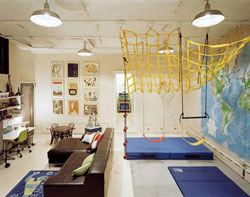 Porcelain Gas Station Lighting for Mod Playrooms
When you hear the word playroom what are some of the first words you think of? Imagination? Colorful? Laughter? Memories?
It's fairly common today to have families convert a spare room or basement area into a place to store toys, games and crafts – all confined within an area that won't get in the way with everyday life. Do you have a room in your home totally devoted to your children?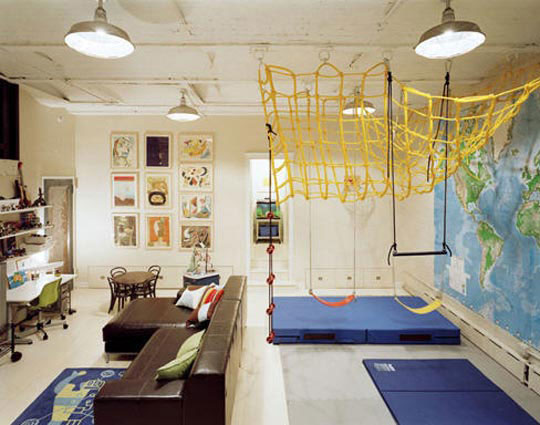 Today's photo was discovered on Apartment Therapy, thousands of people's trusted source for top notch design ideas; they even have a children's version of the blog called Ohdeedoh – where this photo would fit in perfectly! Whether you choose to get help from a designer, or spend a weekend yourself reorganizing and converting a spare bedroom into a play space for the youngsters, we know where you can find trendy lights like they feature above!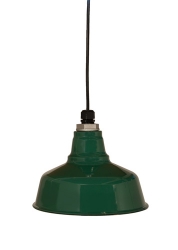 Stylish products like the Barn Light Warehouse Pendant or an Ivanhoe® Esso Porcelain Pendant can complete an impressive upgrade to your child's new favorite room. Once used as vintage gas station lights over 60 years ago, they have a reputation for being rough and tough, just like your little ones! Don't worry either, they're found in a broad array of vibrant colors so if painting the walls isn't an option, bring in some color by hanging artwork and choosing a bold ceiling pendant.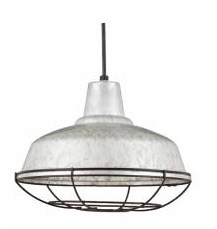 Other options to consider are simply our traditional Warehouse Pendants. Mirroring those in the top photo, a more contemporary Galvanized metal or Satin Steel finish could be selected for an ultra mod room, that even the adults will want to hang out in! These finishes will easily grow with your family – meaning the former toddler's toy room can go the Lego room and eventually into a video game or TV room for the whole family to enjoy!
Photo Courtesy of Apartment Therapy & DesireToInspire.net