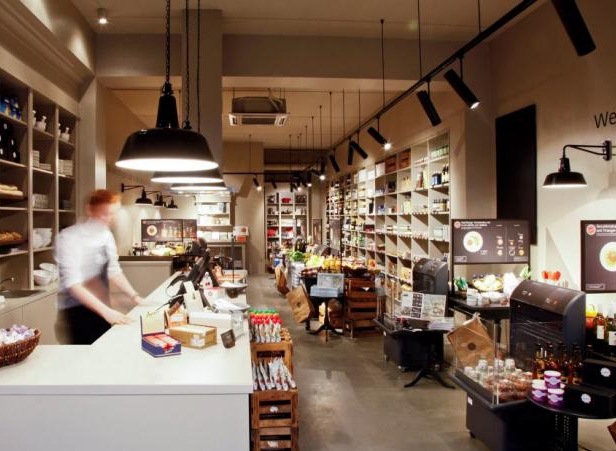 Porcelain Warehouse Shades for Unusual German Market
Ever have one of those hectic nights when you don't feel like cooking yet the same old takeout just won't satisfy that craving for a home-cooked meal? A clever concept was launched in Berlin back in late 2010 that left many people wondering — why didn't I think of that? The owners describe Kochhaus as a "walk-in cookbook" where customers choose dinner from illustrated recipes hanging throughout the store then select premeasured ingredients off the shelves. Voila! Homecooked meals with no missing spices and no hassle in the kitchen. Not surprisingly, Berliners took to the concept immediately prompting the opening of two more locations in Hamburg and Berlin.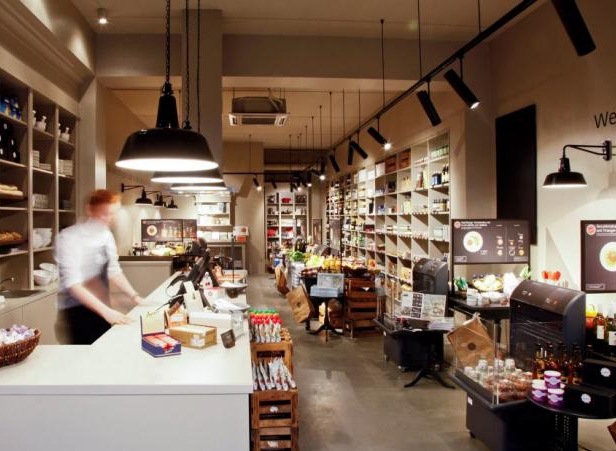 To make sure customers don't miss a single ingredient, the owners allowed for plenty of lighting. In this case, porcelain warehouse shades much like Barn Light Electric's own Ivanhoe® Bomber 17″ Warehouse Porcelain Pendant hang throughout the store. The walls are also lined with matching goosenecks that resemble our Goodrich® Bomber 17″ Porcelain Gooseneck Light. The Bomber is a logical selection for a commercial operation that wants to put its product in the best possible light. The wide 17″ shade throws plenty of light downward onto the merchandise without the obtrusive glare of fluorescent lights, while the goosenecks have just the right amount of projection away from the wall.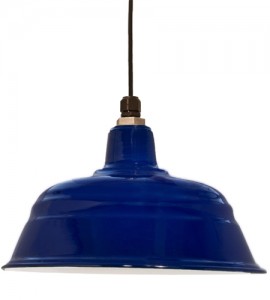 As America's exclusive manufacturer of porcelain barn lights, Barn Light Electric is your go-to headquarters for porcelain lighting. The Bomber is available in eight brilliant glass enamel colors including bright yellow, cobalt blue, or classic black. You can choose a cord hung or stem mount option for The Bomber and it is also available as a gooseneck fixture with the same finish options as the Ivanhoe®. Handcrafted right here in America, these shades are spun from commercial grade steel with a bright white interior and a baked-on enamel coating that will last a lifetime! Low maintenance, durability, and classic styling — even better than a home cooked meal!
Top photo courtesy of Remodelista