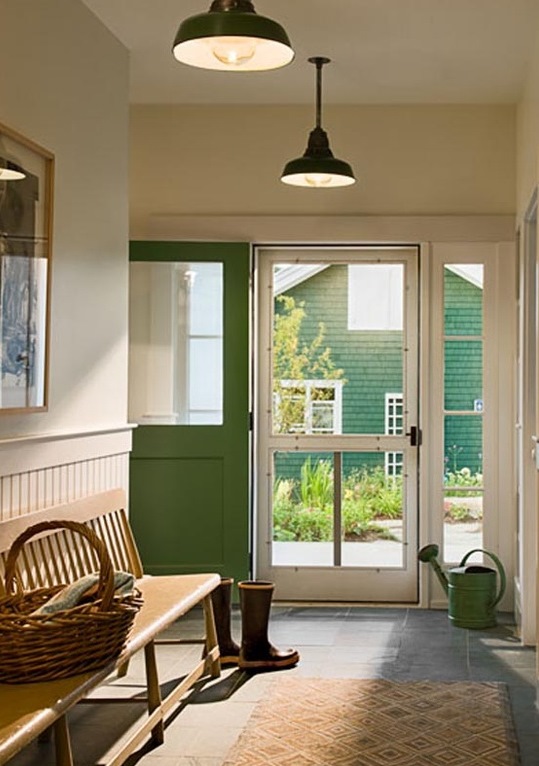 Porcelain Stem Mount Pendants Brighten Up Busy Entryway
When you're dashing out the door to school and work, you need a room design that lets you flow easily through the morning's details without tripping over anyone in the rush. This entry is very functional with its wide hall and long bench to accommodate those putting on shoes, yet it offers so much more than a sparse, utility-room look. Along with the stylish slate flooring and beadboard detailing, the rugged warehouse shade lighting provides plenty of down light so car keys don't go missing at the last minute.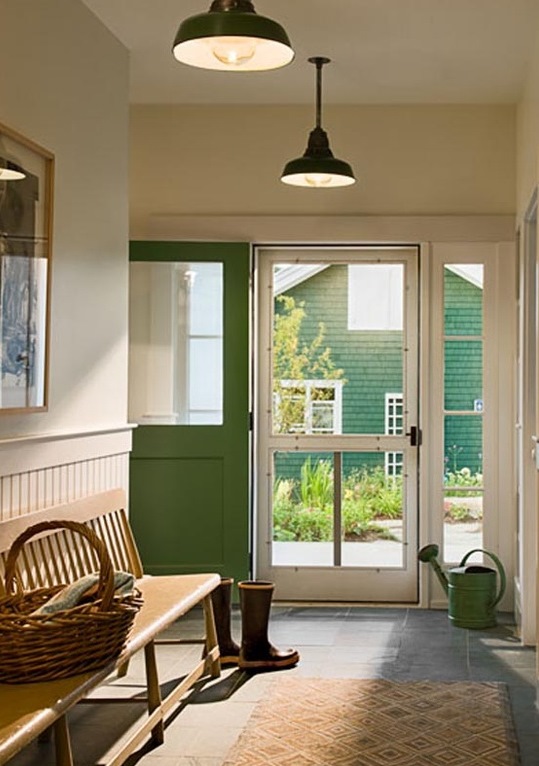 To get this look for your own entryway or mudroom, check out our Benjamin® Union Porcelain Stem Mount Light, part of our collection of Porcelain Barn Lighting. The American made Union features a tall, stacked neck design that gracefully curves out to a traditional warehouse shade. Its wide span of light offers plenty of downward focused illumination making it ideal for hallways, kitchen islands, dining room tables, and game rooms.
The Union is one of our more popular styles thanks to the dozens of ways you can customize this fixture. Shade sizes range from 10″ to 16″ and there are numerous mounting options including stem size and canopy finish. Choosing which of our stunning porcelain enamel colors you want for your shade is like having to pick out your favorite jelly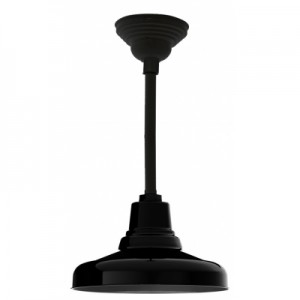 bean color! The porcelain enamel glass coating is hand applied to your shade, which is also hand spun by our own artisans, then baked in a special oven to seal the coating for a lifetime of use. The high-gloss finish will never fade and is perfect for interior or exterior applications.
For those interested in maximizing their LEED rating, don't miss the Benjamin® Union Porcelain Stem Mount LED Light featuring the latest in LED technology from CREE. Now you can have high-efficiency, environmentally friendly lighting without sacrificing the barn light styles you love! Perfect for both residential and commercial lighting applications and you'll start saving money the minute you flip the switch!
Top photo courtesy John Morris Architects and Rob Karosis Photography