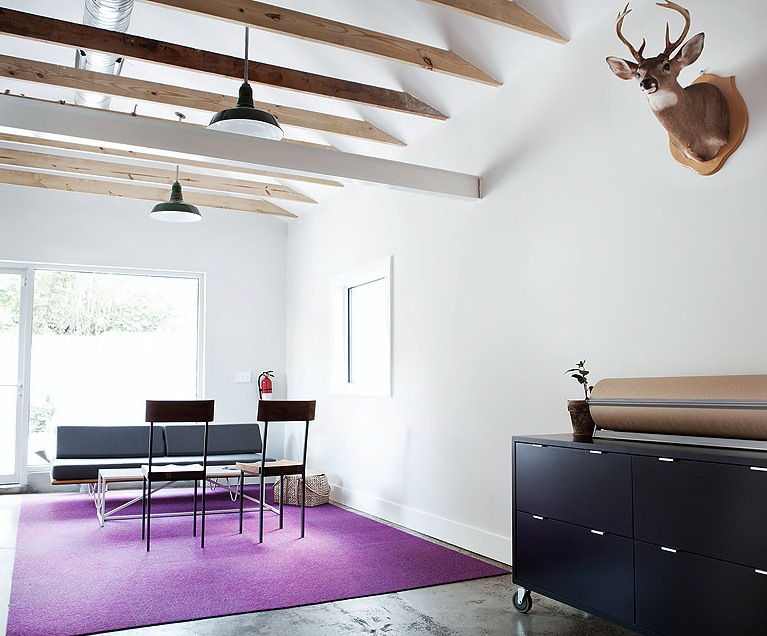 Porcelain Pendants Add Funky Style to Charleston Office
If you've never been to Charleston, South Carolina, you may conjure up images of antebellum style homes, endless cotton plantations, and barbeque offered on every corner. While you may be right about the barbeque, Charleston is a town that has come into its own over the years with a vibrant, waterfront downtown that includes an eclectic mix of restaurants, businesses, and museums.

One such business is Fuzzco, a full-service digital branding agency, that proudly proclaims itself a "100 percent person-based operation."
When the hip and sometimes irreverent business was launched in 2005, the owners remodeled an office building to suit their funky style. Part of the renovations included adding pendant barn lighting to areas such as this lounge. These fixtures closely resemble our Benjamin® 16″ Sky Chief Porcelain Stem Mount Light. The Sky Chief is a great choice for office spaces thanks to the generous span of light it can shed on any work area. Based on vintage barn light designs, the Sky Chief is handcrafted with commercial grade steel then finished with a baked-on porcelain enamel coating to give it its signature strength and durability.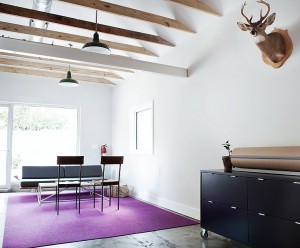 Barn Light Electric is the exclusive US manufacturer of porcelain barn lighting and we take great pride in our American made collection of lighting fixtures. Stem-mounted pendants, such as in our Benjamin® collection, offer added durability when used in outdoor or commercial settings like Fuzzco. The porcelain enamel finish will resist wear and tear for many years to come and will never fade even when used outdoors. A simple soap-and-water cleanup is all you need to keep your fixture looking like new.
The Sky Chief can be finished in several colors including classic black or bronze or try the bright yellow or cobalt blue if you want to make a retro fashion statement. No  matter which finish look you choose, your fixture will keep its stylish look for years to come.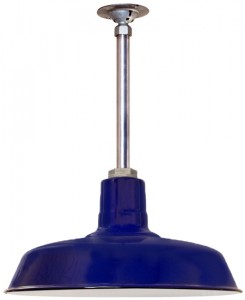 Top photo courtesy of Fuzzco