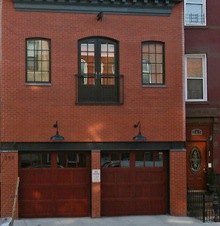 Featured Customer | Barn Lights Dress Up New York Condo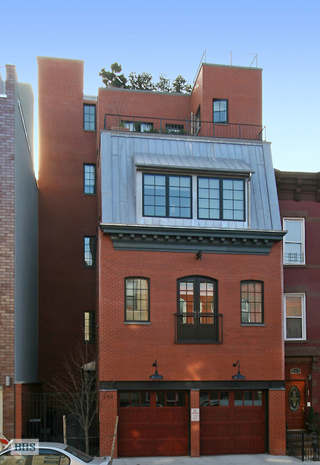 Like so many other Americans with a home for sale, the owner of this beautiful Brooklyn, New York condo has taken many steps to ensure her space is in prime condition for attracting potential buyers. Located in the eclectic and highly desirable Park Slope area, it is part of a converted turn-of-the-century carriage house that still retains much of its historic charm from the early 1930s. Yet many contemporary touches are evident like a private elevator, top-of-the-line kitchen appliances, and a stunning rooftop living space with views of Brooklyn and Manhattan.

Helping bridge the gap between the old and the new are a variety of vintage barn light fixtures chosen by the owner for their old-world looks and timeless designs. Greeting visitors at the garage entrance are two classic Warehouse Shade Gooseneck Barn Lights. These handsome black fixtures provide a nice contrast against the brick exterior and provide plenty of light on the parking area. Drawing visitors to the front steps is a Barn Light Industrial Static Sconce, a rustic fixture that fits snug against the wall — perfect for this narrow entryway!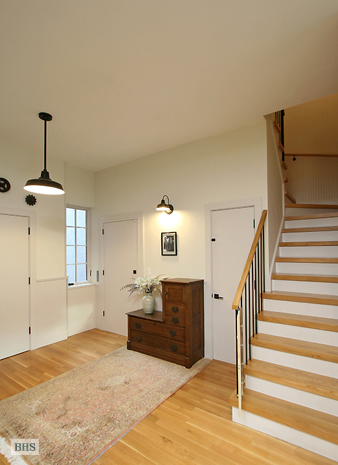 The interior of the condo is surprisingly spacious and full of rustic touches like warm wood flooring, wainscoting, and a stone fireplace. A nod to the condo's historic past is evident in the fireplace mantle crafted from one of the building's original beams. Fitting right in with this classic environment is a Farm and Barn Warehouse Pendant that illuminates the front hallway and stairs. And along the back wall, a Barn Light Austin Sconce adds a nice touch of light over the artwork and chest. This smaller, eight-inch wall sconce is terrific for interior walls or where you need just a touch of light in a smaller space. As always, our handcrafted, American made lights are created with the highest quality materials to provide years of satisfaction and service.
Photos courtesy of Brown Harris Stevens