Barn Light Electric Ups the Ante with "Pin It" Button on Product Pages

It's probably safe to say that mostly everybody out in the blogosphere is familiar with the Pinterest phenomenon, but how about those who just use the World Wide Web for emailing distant family and occasionally ordering gifts? Well, the days of dog-earring magazine pages and cutting out articles of homes or hairstyles you love are long gone with this new form of social media and networking!
"Pinterest lets you organize and share all the beautiful things you find on the web." That is the first sentence you read when you visit their about section. Categorize everything from wedding dresses all the way to your favorite bedding set. This new concept allows you to easily "pin" from all over the web with a simple bookmarklet on your toolbar! Increasing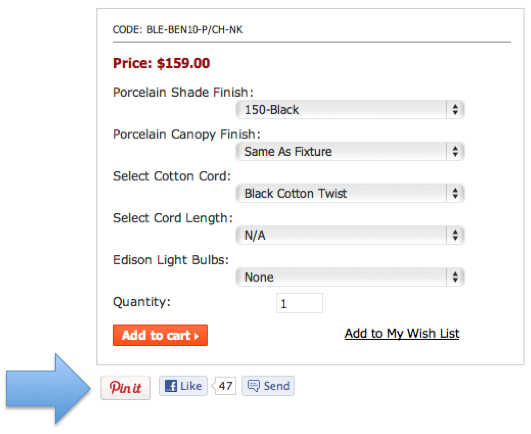 their marketability and ease of us are the new iPhone and iPad apps, letting you look through all those yummy recipes while at the grocery store.
Now, Barn Light Electric is making life so much easier for those of you out there with pinboards with your favorite home decor ideas. Check out any product listing on barnlightelectric.com, and you'll see a "Pin It" button right underneath the various options for customization on any given piece. By pinning directly from your favorite product pages, you're provided with a quick link back when you're ready to order. For example, here is the customization options for the Ivanhoe® Sinclair Industrial Porcelain Pendant. See how easy it is to just "Pin It?"
To sum it all up, Pinterest allows you to clear out your Bookmarks Bar with each individual pinboard. You can follow those with similar interests, comment on other's pins, as well as gain out of the box inspiration you typically wouldn't see in magazines or on television. If that's not social media blooming into something great for the public, then we just don't know what is! If you haven't already gotten in on the Pinterest craze, we suggest you request an invite today! Play your cards right, and we may be able to send you to the front of the line by sending you one direct. Make sure you follow our pinboards today; we're always updating them with great new photos and inspiration!