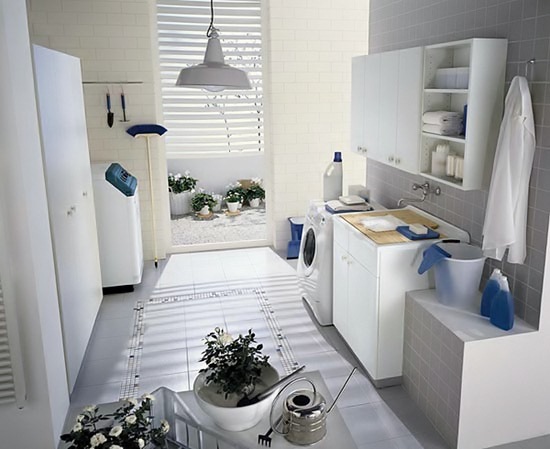 Porcelain Pendant Lighting for Bright White Laundry Room
Most laundry rooms are not blessed with abundant amounts of natural light. Often relegated to the basement or an interior wall or closet, the laundry room must be illuminated by more artificial means of lighting but that does not necessarily mean boring, big-box-store fixtures. Check out this bright white laundry room that is indeed blessed with some natural light coming in from the next room. But to supply the necessary "did that stain I pretreated really come out on the first try" lighting, a beautiful porcelain barn light hangs from above. This shade resembles our Ivanhoe® Sky Chief Warehouse Porcelain Pendant, one of the most popular fixtures in our line of Ivanhoe® Porcelain Pendant Lighting.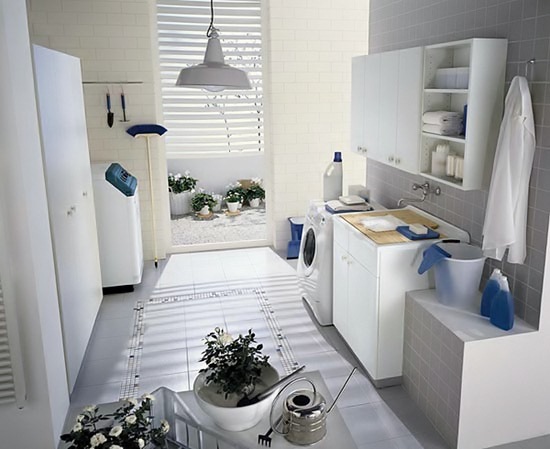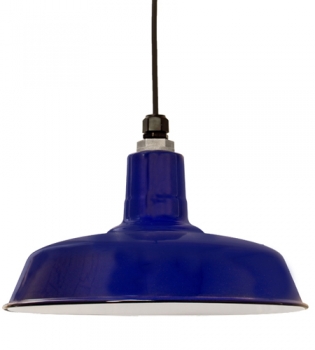 The Sky Chief comes in five shade sizes ranging from 12 to 20″ wide. This fixture is a workhorse when it comes to lighting up spaces that need plenty of downward directed, focused light. Perfect for laundry rooms, office spaces, or in the garage, the Sky Chief will provide a lifetime of service thanks to its durable porcelain enamel finish that will never fade and is easy to maintain. Choose from nine shiny colors that can take your light from traditional Black to creamy Jadite to brilliant Cherry Red. We think this Cobalt Blue version would have been perfect for this space!
All of our porcelain finishes are simple to clean — a soap-and-water touch up is all you'll ever need. The Ivanhoe® line of porcelain pendants come with a standard black or white cord, or you can add even more style with a colored cotton or cotton twist cord in a variety of hues.
Each fixture in our exclusive line of porcelain lighting is hand spun by our very talented craftsmen who then hand apply the porcelain enamel glass coating. Our shades are then baked in a 1600-degree oven to create that brilliant, long-lasting, one-of-a-kind finish. Couldn't your laundry room use this kind of American made character?
Top photo courtesy of FemaleWays.com