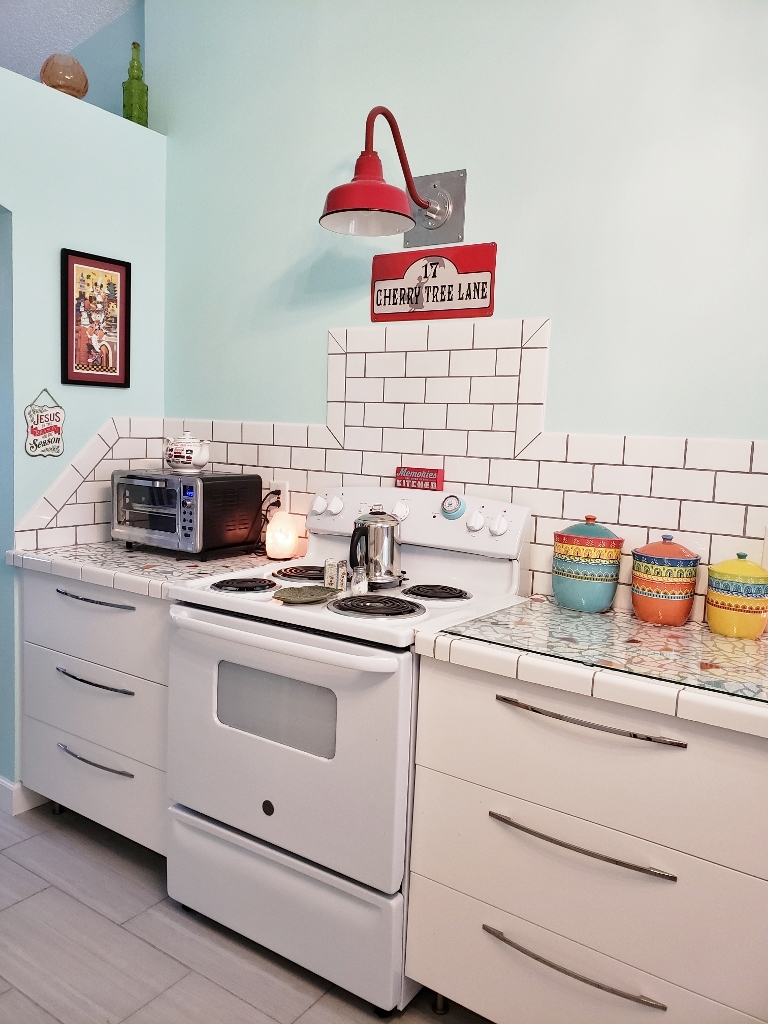 Porcelain Gooseneck Light Offers Style, Durability in Kitchen Reno
Barn Light Electric handcrafts lighting for customers around the globe, but we also enjoy having loyal customers right in our own back yard.
Lillie and her husband have called Titusville home for more than 40 years. They remember when Barn Light opened its doors in town 11 years ago.
"My dream for years has been to own a Barn Light Electric gooseneck light," Lillie says. When the couple purchased a home in 2015 that needed extensive renovations, her dream finally came true.
"We had to completely gut the kitchen and start from scratch which gave us an open slate to create our own design," she explains. "I'm a crafter and an artist so I prefer designs out of the box. My goal was a blend of colors balanced with white, combining a retro look with a bit of industrial."
Instead of a microwave over the stove, Lillie opted for beautiful, handcrafted task lighting. She chose the Esso Gooseneck Light customized with a 10″ shade and brilliant Cherry Red finish. She also added a G26 gooseneck arm.
"We chose the Esso because of the style and the 10″ shade is proportional to the stove," Lillie explains. "I wanted a color that would pop, and the Cherry Red matches our red pantry door. It's a beautiful shade of red. So classic!"
Lillie was excited the day she placed the order, but even more excited on the day she drove to Barn Light Electric to pick up her new gooseneck light.
"Our new Esso Gooseneck looks absolutely wonderful! It adds a spark of fun to our kitchen and, most of all, provides wonderful lighting to cook by," Lillie says. "We are blessed to have a Barn Light gooseneck light in our home, and know we will enjoy it for many years to come."
Photos courtesy of the homeowner