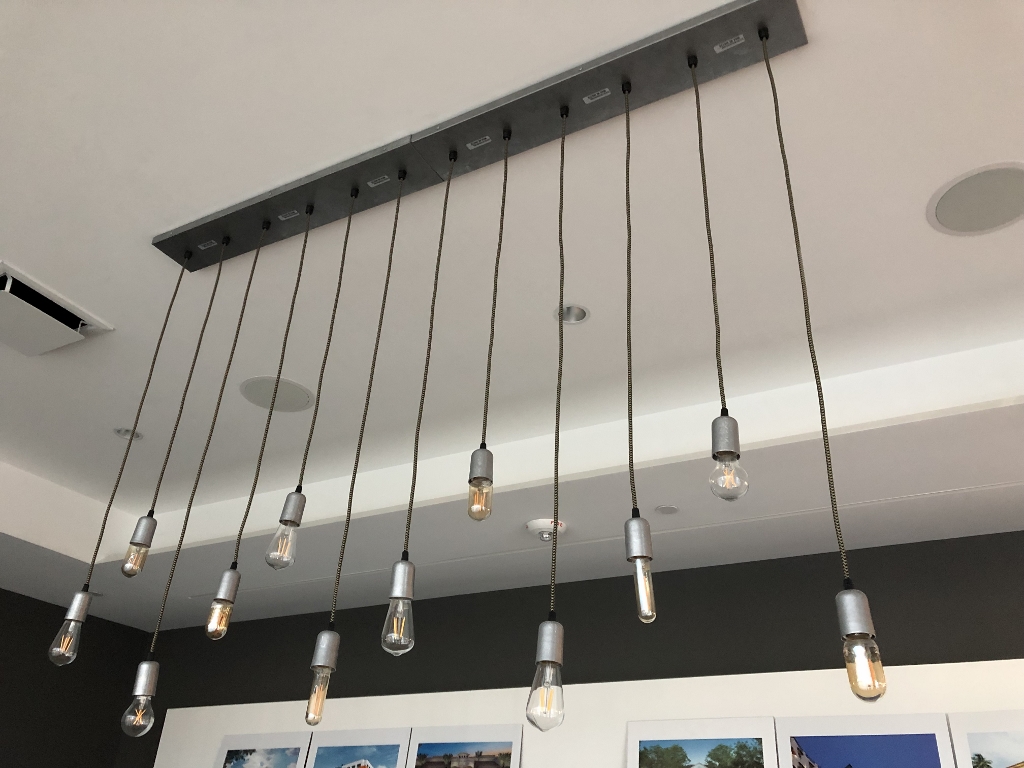 Minimalist Chandeliers Infuse Conference Rooms with Industrial Vibe
What type of work space would an architect design for his own office?
When Michael Kollin, president and CEO of Kollin Altomare Architects, started planning a $1.25 million improvement of the firm's corporate headquarters in Long Beach, California, he envisioned a minimalist type of industrial work space. 
"We chose muted colors of black, grey, and white to reflect the exterior of the building," Michael says, "as we wanted the interior and exterior to be visually connected."
For conference room lighting, Michael wanted American-made fixtures that could ship quickly and offer an industrial-vintage style to accent the rooms. For the larger Norton Conference Room, he chose the Downtown 6-Light Pendant Chandelier with a Galvanized finish and black-and-gold cloth cord.
"We decided to use two of these fixtures end-to-end to carry the length of the long conference table," Michael explains. The adjustable cording allowed him to individually customize the length of each pendant in the fixture. The galvanized finish provides the desired old-school industrial look.
In a smaller conference room, Michael opted for the Downtown 3-Light Pendant Chandelier with the same finish and cording options.
"The smaller room needed something similar to the larger room," Michael notes. "The 3-light fixture was more appropriate than a single fixture." Both of these chandeliers join our Downtown Minimalist sockets to a single ceiling plate mounting. Thirty different finish colors are available for the ceiling plate and sockets along with 23 colors for the cording which is offered in both damp- and dry-rated styles.
Michael used a variety of Edison-style light bulbs in both fixtures to add even more personality to the lights. Edison bulbs offer a soft glow while half-chrome bulbs provide a more contemporary feel.
Michael discovered Barn Light Electric thanks to his lighting designer Chris Bowsher with Lighting Design Studio in Hermosa Beach, California.
"The desired industrial look that radiates throughout the office starts with these two fixtures," Michael says.
Photos courtesy of Kollin Altomare Architects