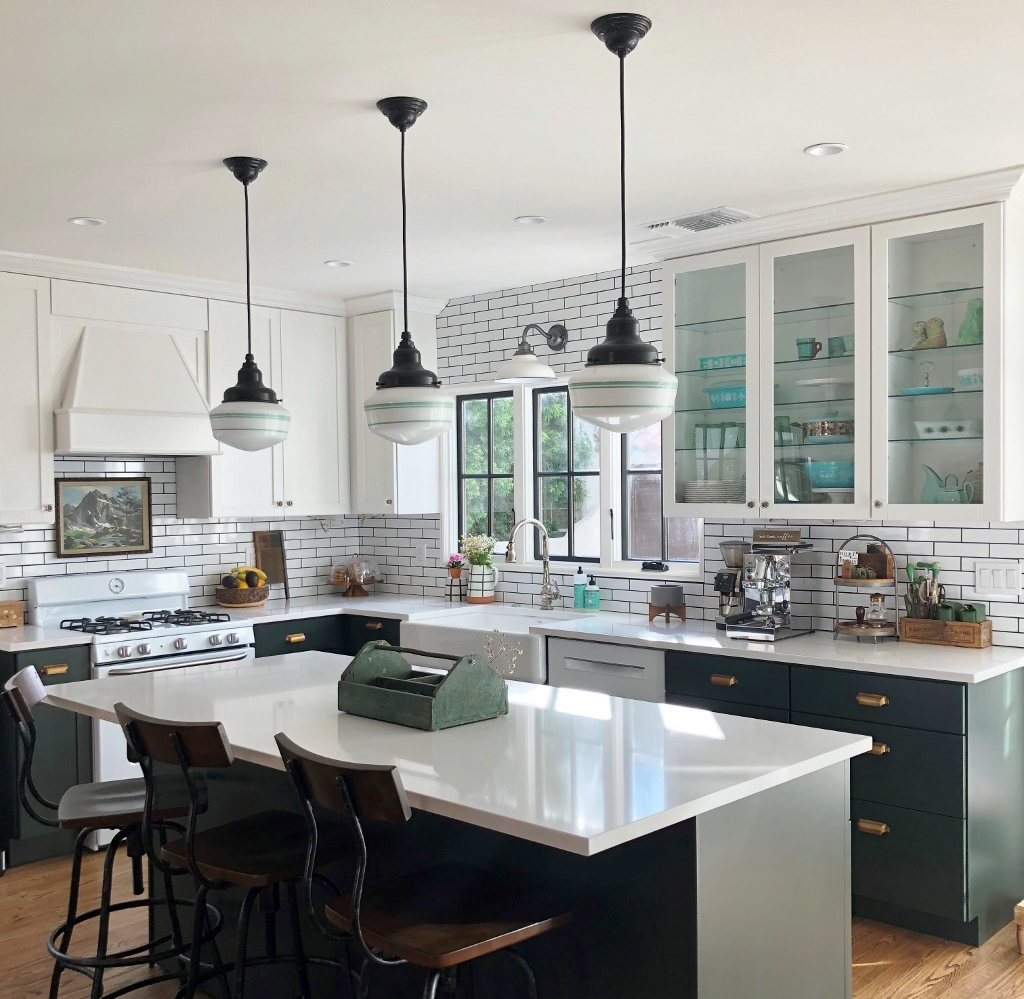 Schoolhouse Pendants Combine Vintage, Modern Details for Kitchen Reno
Walking through the Cal Heights neighborhood in Long Beach, California, feels like stepping back in time. The quiet, tree-lined streets feature homes built in the early 20th century with many Spanish revivals and Craftsman bungalows.
Becca's home, built in 1935, needed extensive work when she purchased it. As a designer and principal of Alpenglow Interiors, Becca began renovations that included all new electrical, plumbing, and roofing plus a new bathroom. She created an open floor plan while restoring the original hardwood floors and preserving the original character and charm of the home.
"Our design inspiration for the kitchen came from the charm of 1920s and 30s vintage style," Becca says. "We wanted something that felt fresh and clean and modern, but with as many vintage touches as possible. Our style is a combination of rustic, mid-century modern, and vintage."
The kitchen lighting helped define and design the space. Becca search the web for vintage-inspired pendants and came upon Barn Light Electric's schoolhouse collection. She knew right away they were a definite choice for the kitchen.
"I instantly fell in love with the schoolhouse pendants from Barn Light. When I saw that Jadite stripe, it was instant love," she explains. "I knew they would be the focal feature over the large island and the perfect nod to the vintage style we love. They also feel fresh and modern with the cords and the black fitter and canopy."
Becca chose the Primary Schoolhouse Pendant Light for her kitchen. She customized these ceiling lights with small opaque glass, a black cord, and a triple painted band of Jadite.
"This light was a no-brainer because of the customizable options and the adjustable quality of the cord," she notes. "They look like they could have been original to the home but also look completely clean and modern too! Having the flexibility of the cord version helped as we could really play with them until they were just right!"
The Primary Schoolhouse globe comes in small and large sizes and can be clear or opaque like Becca's. Thirty finish colors are available, along with copper and brass, so the light can be tailored to suit most any style of home. Colorful cording and painted band options add even more personality to these pendants.
"The small globe was perfect because I was able to use three pendants and still maintain a light and airy feel. They don't feel cluttered," Becca says. "The Jadite bands are what made me fall in love with these pendants, yet it's subtle enough that it's not overwhelming and gives the perfect amount of color and pattern without being overdone."
Although Becca installed recessed lighting in the kitchen as well, she rarely turns it on.
"The illumination over the island is perfection. The lights are the first thing people comment on when they come into the space," she says. "They are timeless, classic, and a showstopper for sure!"
Photos courtesy of Alpenglow Interiors