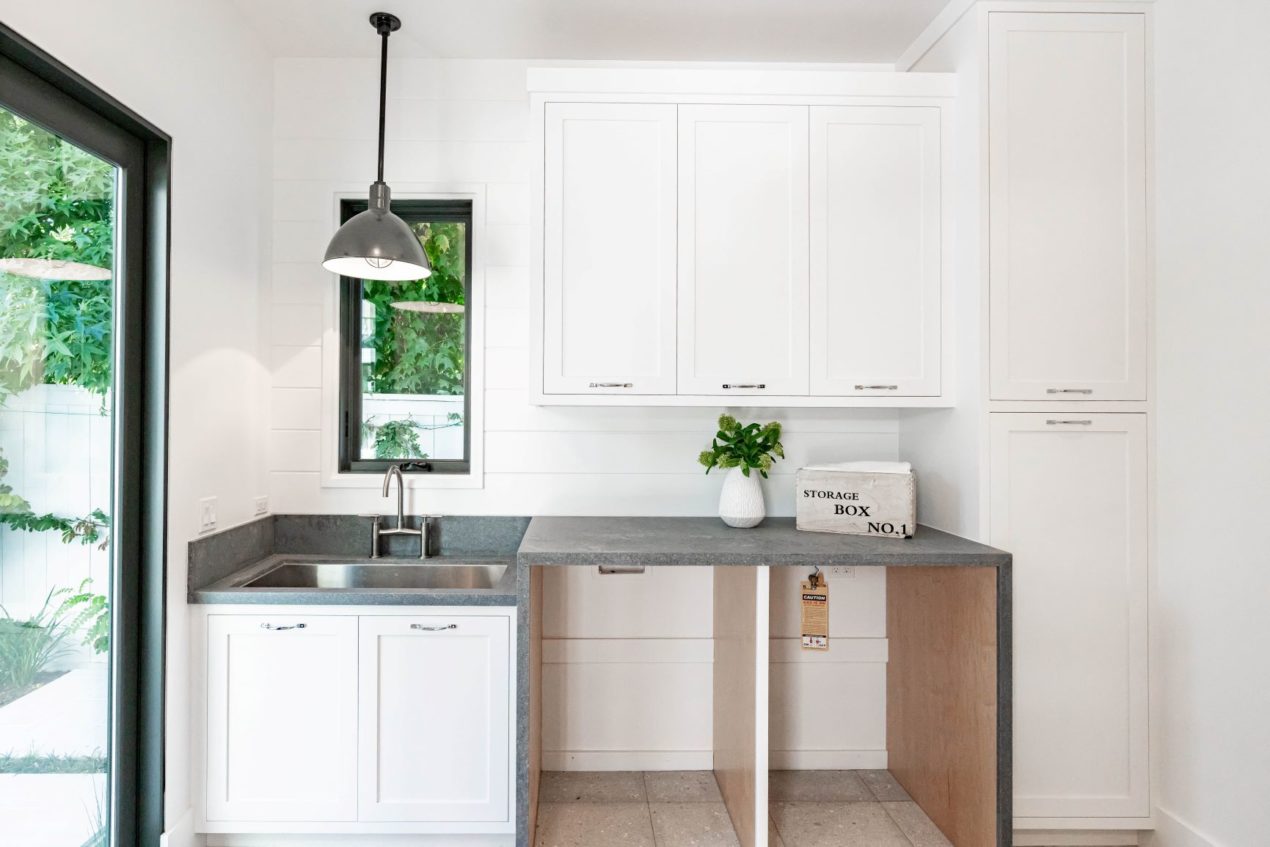 Porcelain Enamel Finish Color Sets Tone for New Spec Home Design
The term "spec home" conjures up all sorts of images. Not all of them are good. Some builders opt for the cheapest flooring, cabinetry, lighting, and other materials in order to boost the bottom line.
When the Dwellings Design Group was tapped to provide design services for a brand new spec home in Newport Beach, California, last year, owner Shawn Osborne knew this project would be different.
"This home would be listed for close to $5 million so it had to be refined," Shawn says. "It's also in a great family neighborhood, so I assumed the buyer would have young children. The design needed to be approachable and not too serious." When Shawn stumbled upon Barn Light Electric's Metallic Chrome finish, she knew she'd found the inspiration for the project. She ordered a sample of the finish, one of 11 colors in our porcelain enamel palette, to confirm her initial reaction.
"The moment I opened the color sample, it confirmed the color palette in my mind for the entire home. Your finish sample truly had a lot to do with the overall look." Shawn created a neutral palette — white, oak, and off black — with some fun details and pops of color.
The mud room in this particular home provides access to the garage, pool area, and kitchen so Shawn knew it would see plenty of traffic. Her search for lighting required fixtures with the right balance between pretty and industrial.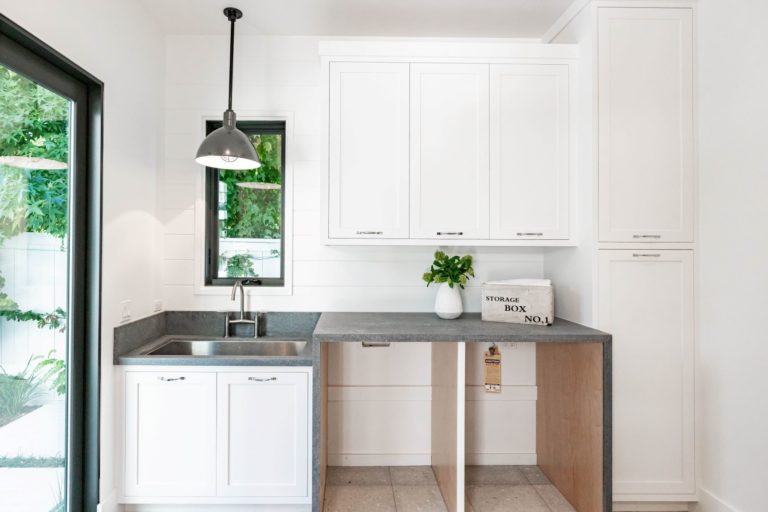 "I love the variety of options, styles, and sizes that Barn Light Electric offers," she explains. "The ability to order directly from you with a trade account makes it so much easier than having to purchase from a third party."
She selected the Wilcox Nautical LED Stem Mount Pendant Light to highlight the sink and washer/dryer area. She customized this handspun pendant light with a 16″ shade, the Metallic Chrome finish, wire guard, and ribbed glass.
"I love this color so much. It's not too black, not brown at all; just a beautiful, soft, gunmetal," Shawn notes.
Over the desk, Shawn chose the matching Wilcox Nautical LED Gooseneck Light. These two fixtures sport the same finish color but on a slightly smaller 12″ shade. The straight-style G17 gooseneck arms provide a more modern flair over a traditional arched arm.
"I imagine this to be a crafting area or mom's desk, so it needs ample task lighting," she explains. "The LED option costs a little more, but I know the person who doesn't have to change the bulbs will appreciate it."
Shawn has been in the interior design business for 30 years and has specialized in the construction side of the business for the last 15. She describes herself as chief visionary, senior designer, problem solver, project coordinator, and construction therapist.
"Almost everything we do has a custom element to it, so I love Barn Light's variety of customizing options for styles and sizes," Shawn says. "And when you're lucky enough to work with a builder who says 'yes' to most of your selections, having custom options just adds to a cohesive, highly curated palette."

Photos courtesy of Tu Hoang of Two Three Photo