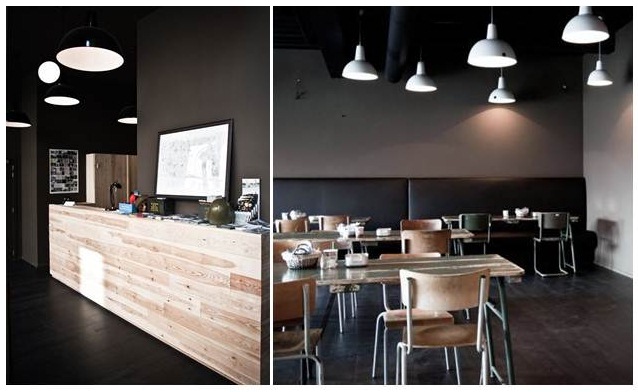 Porcelain Deep Bowl Pendants Lend Glamour to Belgium Hotel
Part of the appeal of the industrial style is its raw, unfinished feel. At the Hotel O in Leper, Belgium, they have taken the industrial style to new heights with a dark, moody interior highlighted by retro style lighting. The check-in desk, shown here on the left, is a simple, raw wood counter, and dark walls and dark floors throughout add to the introspective vibe of the space. Deep bowl pendants hang in both the lobby and the restaurant and offer their own kind of pensive style. These pendants are very similar to our Ivanhoe® Wilcox Deep Bowl Porcelain Pendant, part of our signature collection of Porcelain Barn Lighting.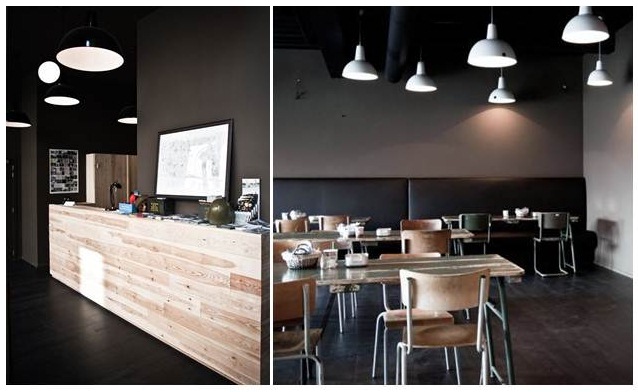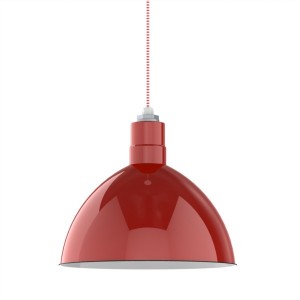 The Ivanhoe® line offers cord hung pendants in a variety of styles, shapes, and sizes, and the Wilcox is one of our most popular deep bowl styles. Available in five shade sizes starting at a petite eight inch size and ranging upwards to a beefy 16″ shade, the Wilcox can handle most any lighting task from residential spaces like kitchens and dining rooms to commercial venues such as a high-traffic restaurant. Hand crafted from commercial grade steel right here in America, the Wilcox is a classic light that will provide years of satisfaction and service. Choose from nine gorgeous porcelain enamel finish colors such as Vintage Green, Cherry Red, or Cobalt Blue. A standard black or white cord is available, or add even more personality to your fixture with a colored cotton twist cord. A wire cage or cast guard and glass can be added to this light for a vintage twist plus it helps protect the bulb in commercial settings.
No matter where you choose to hang the Wilcox, its porcelain finish will never fade and is easy to maintain. Be sure to check out the matching Goodrich® Wilcox Porcelain Gooseneck Light and the Benjamin® Wilcox Porcelain Stem Mount Light!
Top photos courtesy of Remodelista