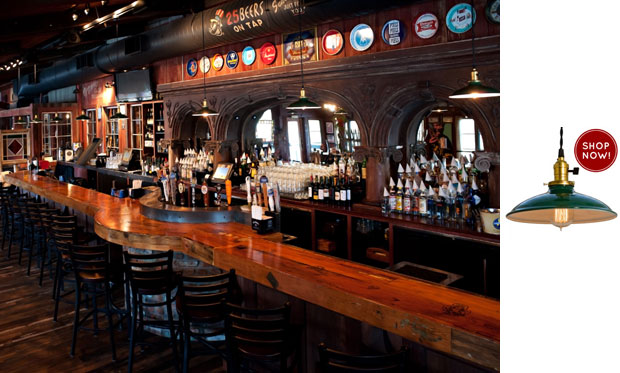 Porcelain Barn Lights for Restaurant Lighting
Restaurateurs know the importance of making a good first impression. With unique decorations and vintage inspired barn lights like the Ivanhoe® Sinclair Industrial Porcelain Pendant, they can create an atmosphere that makes the difference between luring in a one-time customer or a local regular.

Tony Ibarra and Dawn Carlson of Mood & Space Design know the value of vintage inspired barn lights. They incorporated the Ivanhoe® Sinclair Industrial Porcelain Pendant Lights sold at Barn Light Electric. These pendants, which start at $159 each, were installed in their industrial coffee shop in Oakland, California.
The pair opted for white porcelain barn lights and vintage components like a nickel socket, twist cord, and the always popular Edison Style Light Bulb. When the duo started the renovation, they stumbled upon the original store's factory pendants, which today remain installed and fully functional above the front counter. The porcelain enamel pendants complement other distinct accessories in the shop which pay homage to the early 1900′s atmosphere. On our original blog post about the Modern Coffee Shop, a customer raved about the shop's interior:
"I went to the opening party for this coffee shop, and the redesign really is beautiful. It's a great homage to the building and city's history." – Emmett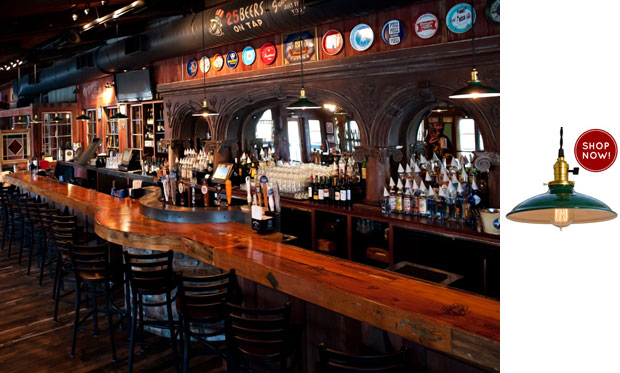 Another example of a restaurant that utilized porcelain barn lights to create a memorable dining experience is Dinosaur BBQ. This nationally-acclaimed barbecue joint recently opened its fourth restaurant in the state of New York. The new establishment has an ideal location with a picturesque overview along the eastern bank of the Hudson River. Above the full service liquor bar in the center of the restaurant, you'll see a line of our vintage green Ivanhoe® Sinclair Industrial Porcelain Pendants. The owners chose to accent each with a a solid brass socket and vintage style paddle switch.
These vintage industrial lights pay tribute to their original counterparts originally used as task lighting around the 1930's. The industrial look of the porcelain pendant blends perfectly with Dinosaur BBQ's rustic pub feel. The roadhouse style layout of Dinosaur BBQ's dining area features thick reclaimed wood lined with local art relics and other rustic decorations.
To see more options regarding restaurant lighting, visit barnlightelectric.com.