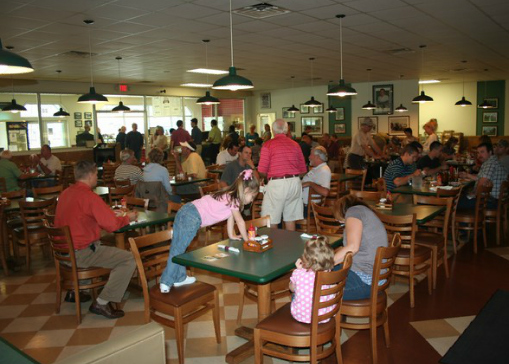 Porcelain Barn Lights Add Down Home Style to BBQ Restaurant
Yesterday we visited the Brushy Mountain Smokehouse and Creamery in North Wilkesboro, North Carolina. See The Barn Light Blog for a nice example of Deep Bowl Warehouse Gooseneck Lights on the exterior of the building. Today, we let the smell of smoked, pulled pork barbeque lure us inside this eatery known to the local population as simply The Smokehouse. Nestled in the foothills of the Blue Ridge Mountains, the restaurant lies in the heart of Appalachia where barbeque, mountain traditions, and NASCAR reign supreme.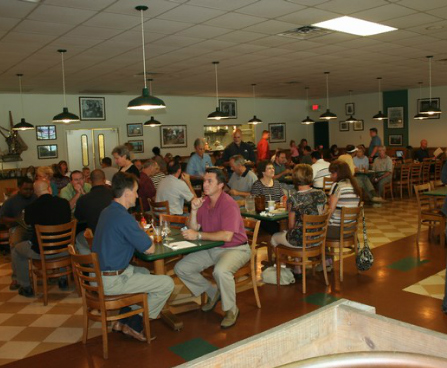 The layout of the restaurant is a wide open space filled with tables. While some flourescent lighting appears in the ceiling tiles, dozens of vintage pendants hang from above to give the space a more intimate feel and bring the lighting closer to the individual tables. These stem mounted pendants, very similar to Barn Light Electric's 16″ Benjamin® Sky Chief Porcelain Enamel Pendant, allow for added durability when used in commercial applications such as this. The porcelain enamel won't corrode or fade over time when exposed to extreme weather, harsh chemicals, or even barbeque sauce.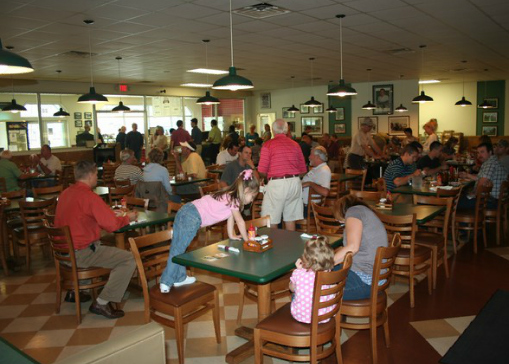 The Benjamin® Sky Chief represents the classic look of a vintage barn light as its shade is based on original designs. Hand crafted right here in America, the Sky Chief is made with commercial grade steel and finished with a high quality, baked on porcelain enamel coating that will stand up to years of hard use. By combining the strength of steel and the hardness of glass, Benjamin® Stem Mount Pendants have the durability needed for a lifetime of use.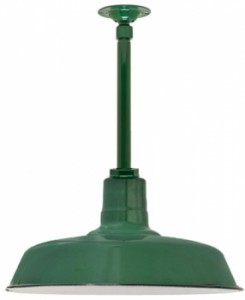 These fixtures can be customized to fit any space or room design. Finish colors range from basic black or white to bright red, creamy yellow, a brilliant cobalt blue, or a lovely jadite. The stem and canopy finish can also match your shade color. Hand crafted exclusively by Barn Light Electric craftsmen, your lights will bring you years of satisfaction.
Top two photos courtesy of Brushy Mountain Smokehouse and Creamery