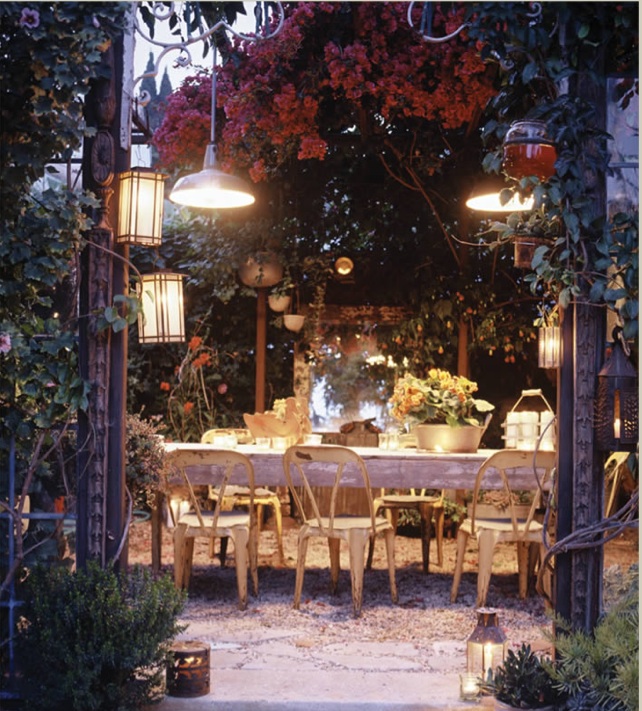 Add a Farmhouse Twist to Your Outdoor Dining Area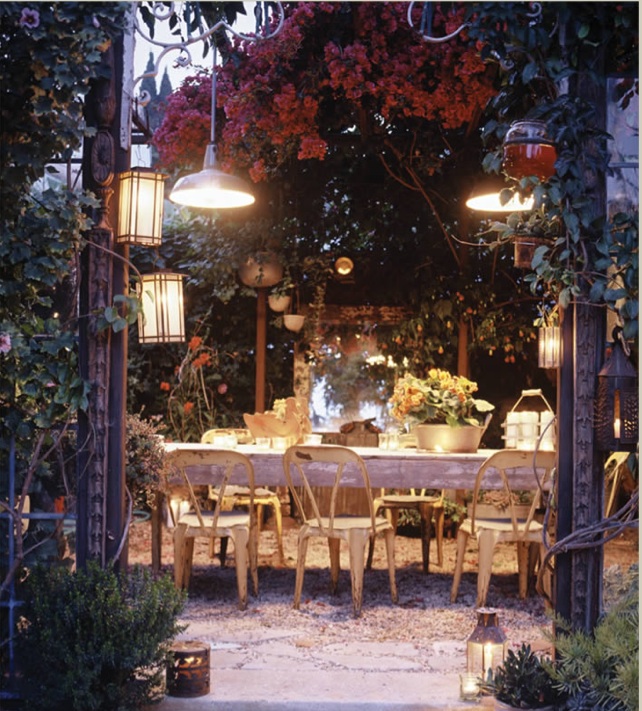 Every backyard has the potential to become a vibrant outdoor entertainment area. As the photo above from Sandy Koepke Interior Design illustrates:
1. Porcelain pendant lighting can enliven your backyard.

2. Farmhouse style isn't limited to the interior of the home.
You'll see many elements of industrial farmhouse style in this setting. Upon entry, visitors are greeted by barn post lights lining the ivy covered entryway that leads to the wooden dining table. Worn metal chairs and vintage accessories including a galvanized flower pot add a rustic look that takes you back to an earlier era.
Koepke used five different light sources to create the ideal glow for a calm and serene experience during twilight hours. It's easy to picture a casual gathering of friends for a warm meal or a special occasion. Both of the green warehouse shades were rewired to a low voltage setting and attached to a conduit running across the pergola. The pendants are similar to the RLM warehouse shade seen on many of the vintage barn lights found at Barn Light Electric.
If you're searching for a newer pendant that replicates this classic look, Barn Light Electric also carries vintage inspired porcelain lights that are available in a wide variety of finishes, including both green, white and black that would coincide with the setting above.
You can recreate this majestic layout in your own backyard by experimenting with various lighting arrangements and by improvising the look on a regular basis with new decor and lighting. A great advantage of working outdoors is the extra room for creativity and adjustments. Outdoor lanterns like the Charleston Barn Lantern and other exterior pendants add aesthetic appeal regardless of where they're installed and will entice you to spend more of your dinners under the stars.
Photos Courtesy of Sandy Koepke Design