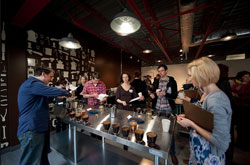 Featured Customer | Salt Spring Coffee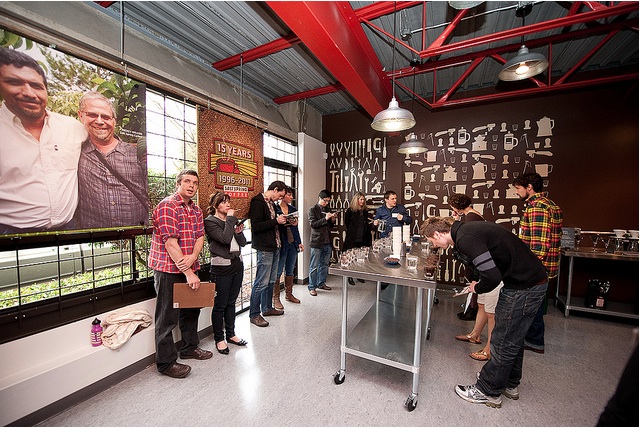 Get ready, because we're about to wake you up with some fresh photos we just received from Salt Spring Coffee! Grab your jacket because to wrap up our week, we're heading back up to Vancouver…
Earlier this month, Salt Spring Coffee hosted an open house at their roasting facility. It is here that nine of our galvanized Farm & Barn Cord Hung Pendants were installed. In the photos shown today, you'll see how the pendants played a key role in displaying the coffee ingredients to more than 250 visitors who surveyed and sampled the product.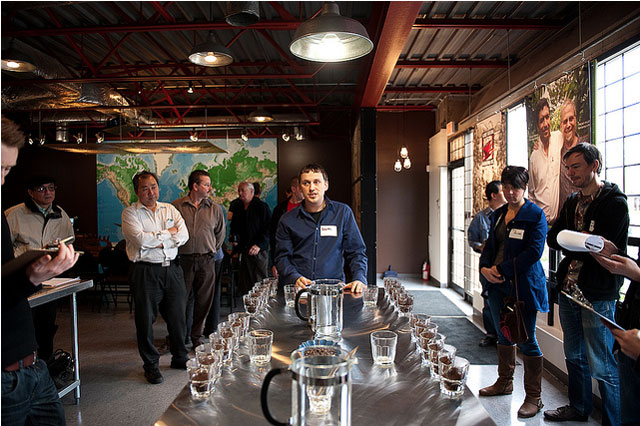 The photo above is a perfect illustration of the powerful yet incredibly efficient lighting produced by the warehouse pendants. As the guide explains the setup to the touring group, the coffee ingredients and containers are the focal point of the room thanks to the pendant placed over the center table. Throughout the rest of the building, Farm & Barn Pendants were hung at a higher height allowing them to illuminate a larger area.
Much like our own background, founders Robbyn Scott and Mickey McLeod started the business in their backyard. They later expanded to an organic roadside stand to sell their product but coffee wasn't added into the mix until 1996, when they opened the doors to their first roasting café on Salt Spring Island. Today, Salt Spring Coffee has three cafes in British Columbia which are all certified organic, certified direct fair trade and operationally carbon neutral! Salt Spring was voted one of Vancouver's best fair trade coffee shops by Georgia Straight Magazine readers.
"We choose to operate our business in the most socially responsible and environmentally conscious way that we can because we believe it makes a real, tangible difference in the lives of coffee farmers, our customers and our community." – Salt Springs Coffee
Photos Courtesy of Salt Spring Coffee