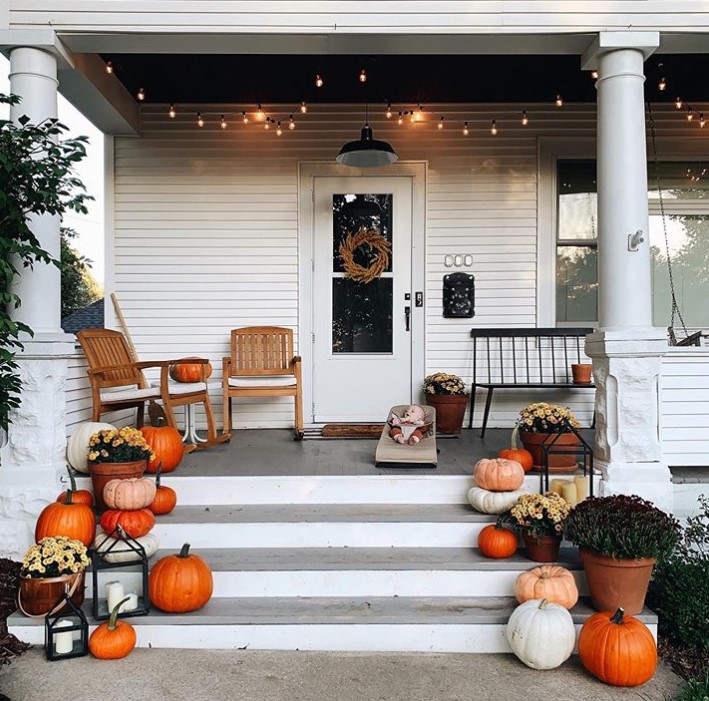 Our Favorite Fall Decor Courtesy of Instagram
Happy Fall y'all! Even though Florida won't feel like fall for another month or two, we're celebrating pumpkins, potted mums, and plenty of barn lights to brighten up the night. We spotted some gorgeous fall displays over on our Instagram feed so be sure to hop over and get inspired!
We're sharing some of our favorites here on the blog today including this beautiful setting from @sbkliving in Sun Valley, Idaho. We love the traditional fall elements presented in a sophisticated palette of black and white. The Original™ Wall Sconces, also in Black, offer a hint of vintage styling with the RLM shade design and wire cages.
Courtney's front porch in Minnesota is ready for the season with pots of colorful flowers mixed with pumpkins. The warmth of the Craftsman-style front door creates a beautiful focal point framed by Black Original™ Warehouse Gooseneck Lights. These American-made wall lights are customized with 12″ shades and G26 arms.
Liz Marie loves the textures and colors of season, and her front porch a stunning display of mums and fall produce. Her wide front porch is indicative of mid-1800s style and serves as the perfect palette for decorating. The wide stairs beckon friends and family to sit a spell and enjoy the sights under the glow of Liz's Wesco Vented Gooseneck Lights. These unique fixtures are customized with 16″ shades in a Galvanized finish with circle vents in the neck. The hefty G19 gooseneck arm provides plenty of support for this handcrafted wall light.
Our good friend Jamie @whitetailfarmhouse greets the autumn season with bales of hay and plenty of orange accenting her brick stairs. Jamie chose several different styles and sizes of barn lights for the exterior of her Texas home. This particular Original™ Warehouse Gooseneck sports a 14″ shade and a Vintage Green finish. You can see more of Jamie's beautiful farmhouse in this post.
There's much to celebrate for Chelsea @alovelybean with a porch full of pumpkins and her new baby's first fall! Chelsea's welcoming front porch includes plenty of comfy seating while her string lights and Original™ Warehouse Pendant provide plenty of illumuniation after dark. This barn pendant light is customized with an 18″ shade, Black finish, and standard black cord.
For more fall inspiration, be sure to follow our Instagram and Pinterest feeds. Show us your favorite fall décor and give us a tag so we don't miss it!