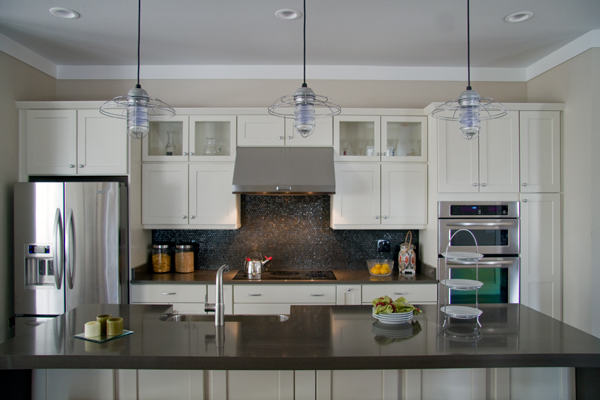 Orlando Vision House 2011 | The Kitchen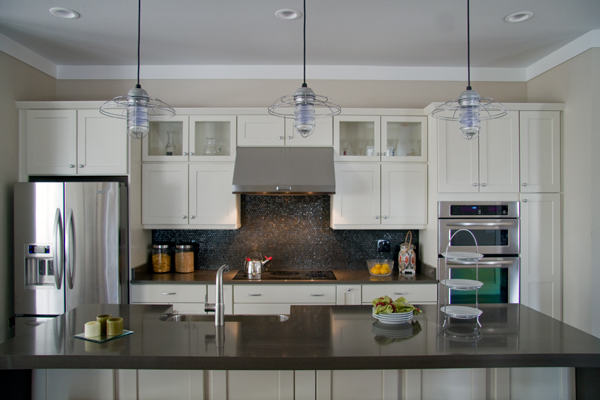 First stop at The Vision House Orlando – the kitchen! Kitchens are becoming more and more commonly used for entertaining, creating a need for an open yet functional layout. With the increased guest traffic, the bar on kitchen design has been raised! What first comes to mind when it comes to kitchen renovations are updated cabinets, stainless steel appliances, and high end countertops. However, lighting choices are often overlooked. Well not in this case!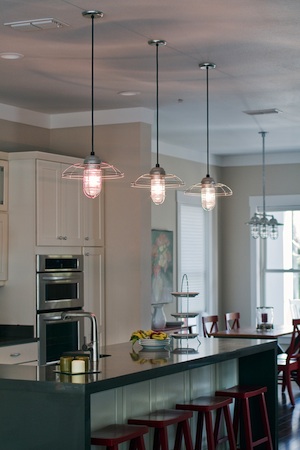 The first thing that pops when you walk into the kitchen are the three Barn Light Blue Collar Pendants hanging above the island. Not only do they provide more than adequate lighting for food preparation, the island also doubles as a breakfast bar or homework station. Those who are lucky enough to gather around this spectacular work station will be treated to views of some of our most unique pendant lighting!
The Barn Light Blue Collar Pendant fuses two of our most popular accessories together – a wire guard and cast guard/ glass jelly jar. Acting as a large top shade, a wire cage rests upon a galvanized atomic cast guard and ribbed glass jelly jar. The combination of two grid like accessories form an ultra modern, architectural style light that mirrors nearby stainless steel appliances and accessories. The Blue Collar Pendant is available in sizes ranging from 8" to 18" as well as a variety of finishes that allow you to fully customize each piece. This rustic pendant is not only a stylish lighting alternative to traditional kitchen lights, but it's also extremely affordable. This atomic pendant starts at only $123.00 each!
As The Vision House Orlando prides itself on offering affordable green alternatives to traditional building materials, be sure to finish off each Blue Collar Pendant with a long lasting, energy efficient light bulb. CFL light bulbs can also be added to your order from Barn Light Electric