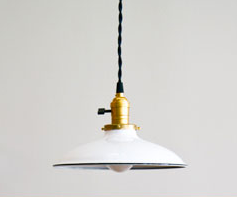 Industrial Porcelain Pendant Lights in Tampa Cigar Factories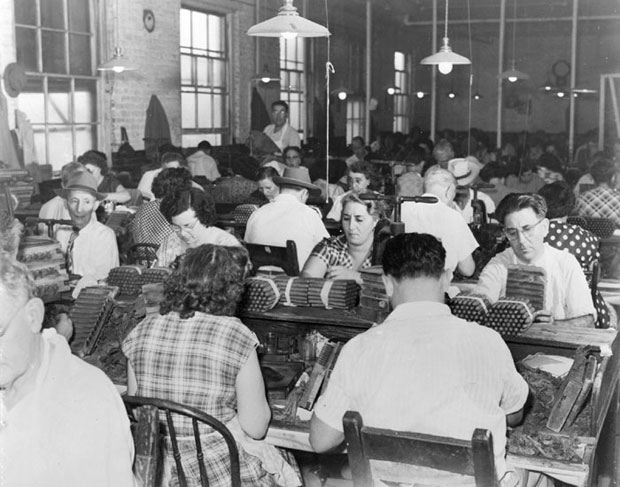 For decades, the Tampa Bay area was known as the cigar capital of the United States. Vicente Martinez Ybor, a prominent Spanish-born cigar manufacturer moved his business from Cuba, to Key West and finally to a plot of land in Tampa Bay. Through the years, additional cigar-making companies sprouted up throughout the Tampa Bay area and many of their warehouses were lit with industrial porcelain pendant lights. As you can see in the photo above, these pendants were strategically placed to provide a directional beam of light over the tables occupied with workers rolling cigars. Toward the end of the 20th century and into the early 2000's, increased taxes on tobacco products forced many of Tampa's cigar factories to permanently close their doors.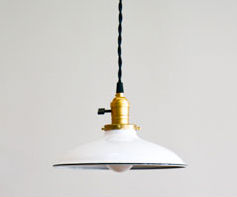 While many similar factories have disappeared over the years, the porcelain barn lights once used have regained their popularity and returned into American culture. Today, Barn Light Electric offers a line of vintage inspired Ivanhoe® Sinclair Industrial Porcelain Pendants that resemble the original barn lights pictured above. The Ivanhoe® Sinclair Industrial Porcelain Pendants are made with the same high quality craftsmanship that went into producing the original models nearly 100 years ago. Each shade today is still hand spun and American made – does it get any better than that?!
A sleek, glossy finish appeals to homeowners today and has helped them make the transition from heavy, industrial areas to residential spaces like the kitchen. Porcelain pendants are also becoming more prevalent in commercial retail areas and restaurants as well. In search of lighting that creates a vintage setting, restaurant and store owners are incorporating rustic lighting and decor like these classic pieces. Staying true to their original style, many of the porcelain enamel pendants and gooseneck lights can be purchased in traditional finish options like white, black, green or cobalt blue.
Top Photo Courtesy of the Special Collections Department, University of South Florida. Digitization provided by the USF Libraries Digitization Center.