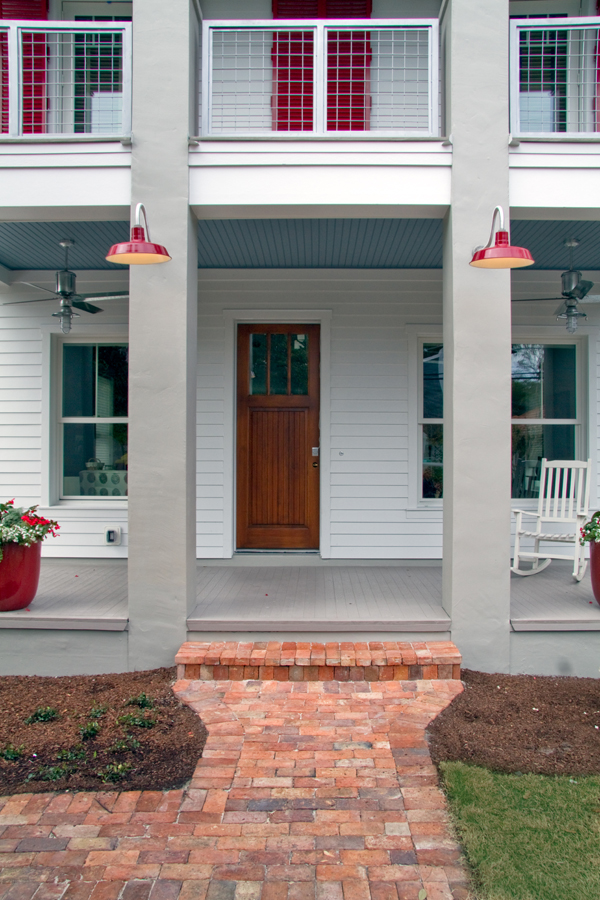 Orlando Vision House 2011 | Exterior Gooseneck Lighting
We're just starting your tour of the Orlando Vision House 2011. Today, Barn Light Electric Company proudly presents part of the exterior!
If you're not familiar with the Vision House project, check out it out by simply entering "Vision House Orlando" into the search bar to the right – you'll be instantly hooked! The Vision House makes such a lasting impression once you walk inside, so it is only right if the exterior also gives that lasting effect. From first sight, you can tell how carefully thought out every detail was, from the cherry wood front door, to the cornflower blue paneling on the porch ceilings. Entering upon the brick walkway, one is hard pressed not to sit down and relax on the rocking chair!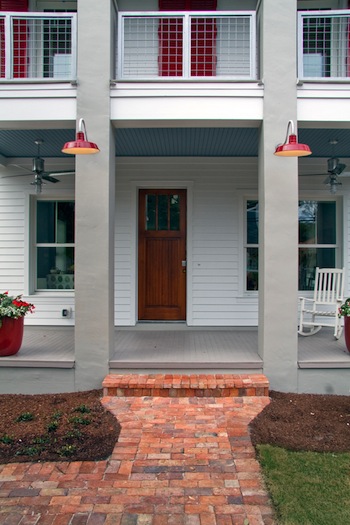 Architect Ed Binkley couldn't have said it better himself:
"It is a home that will require a second look as one passes due to the subtle, but deliberate, choice of detail, animation and whimsy."
The Machine Age Galvanized Ceiling Fans placed on opposite ends of the porches, perfectly complement the light wood siding and industrial gray columns. The red gooseneck lights above add plenty of visual interest when paired up with the two oversized planters and traditional style hurricane shutters.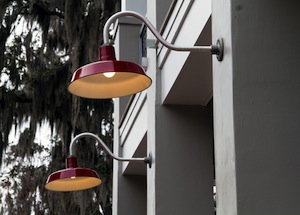 The gooseneck warehouse shades are featured all around the exterior of the Vision House. They are also used above the garage and over the second story balcony. To get this sought after industrial farmhouse look, check out our Goodrich® Sky Chief 16″ Porcelain Gooseneck Light. The durable porcelain enamel finish has a remarkable quality that is sure to combat and outlast years of weather and wear, all while retaining its color and vintage style.
Keeping with the home's foundation of using affordable and green building techniques, Compact Fluorescent Light Bulbs (CFL bulbs) were placed within each barn light. CFL bulbs are long lasting and provide energy efficient alternatives to traditional Standard Incandescent Bulbs allowing The Vision House to proudly showcase itself during the evening hours as well! CFLs will provide you with just as much light, but will use 1/3 of the energy and can last up to 8-15 times longer!