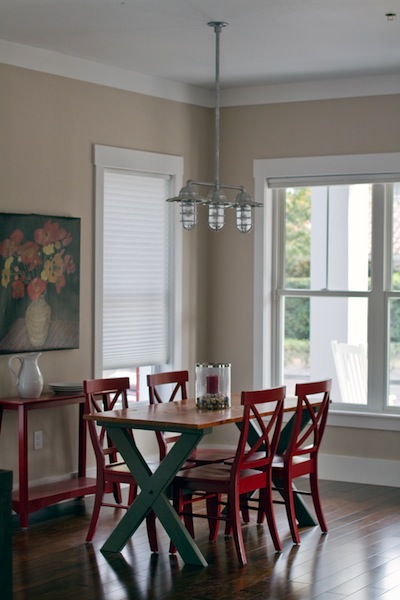 Orlando Vision House 2011 | The Dining Room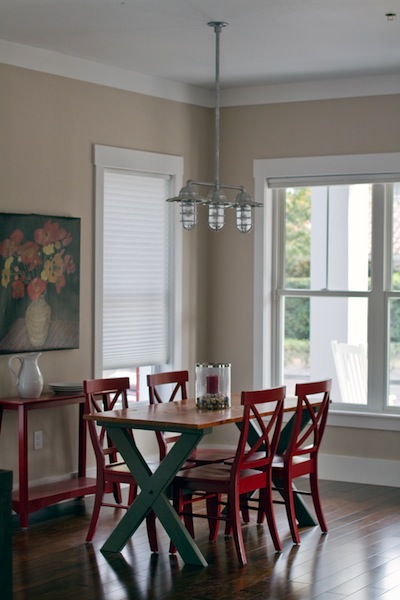 If you've been following our blogs on the Orlando Vision House 2011, the chandelier over this dining table may look familiar to you. If it's not ringing any bells, think back to the background within the kitchen – and there it is! In the distance, The Textile 3 Light Industrial Chandelier coordinates seamlessly with the Blue Collar Pendants suspended over the kitchen island. Both incorporating a galvanized finish as well as a cast guard with ribbed jelly jar glass, they add a rugged, barn touch to the quaint industrial farmhouse feel of the open kitchen and dining area!

The Textile Chandelier brings a different flair to the table than the stereotypical chandelier. It isn't swathed in crystals or leafed in gold, but it does add that particular wow factor to any room that you choose to place it in. Also available with a hang straight canopy, this particular rustic chandelier is still a valid competitor for the sloped/ uneven ceilings that many older homes have. Like many of our fixtures, this authentic, American made lighting product has no boundaries when it comes to customization!
Love the look of The Textile, but it isn't exactly what you've been searching for? Check out the Rustic Chandeliers category on our webpage.
The Partnership 2 Light Industrial Chandelier incorporates the same branched look as The Textile; similarly, the Takeover 3 Light Industrial Chandelier uses the three cast guard and jelly jars hung on cords with a triple mount ceiling canopy.
The ability to coordinate similar fixtures throughout the home is exactly what the designers of the Vision House wanted when searching for lighting, as it helps with the open flow of the home. Keep this in mind when it comes to open floor plans, and your home is sure to have the wow factor – just like the Vision House!