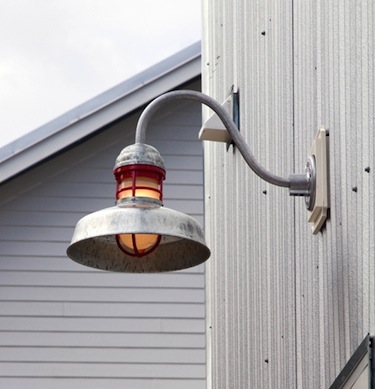 Orlando Vision House 2011 | Outback Gooseneck Lights
By now, you are completely familiar with the Vision House Orlando 2011 and the concept behind its efficient footprint on the environment. Well the Vision House Orlando wouldn't be complete without a perfect back porch to look out on. And what is a back porch at night without some light? It's merely an outdoor room with furniture that is just begging to be tripped over! Fortunately, this isn't the case at the Vision House, thanks to the Barn Light Outback Warehouse Shade!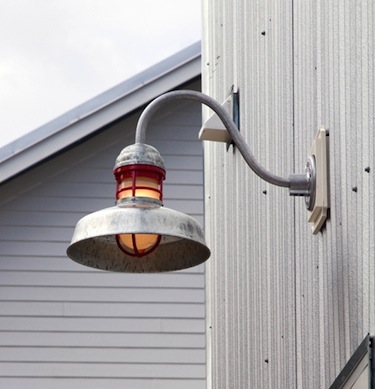 Mounted perfectly over the paneled sliding glass doors and above an exterior doorway, this gooseneck light complements the design of the house as well as serving a safety purpose. You'll also notice the similarities between the other lighting used throughout the house – the gooseneck arm concept used on the entryway as well as the children's washroom, in addition to the wire and cast guards and jelly jar glass seen on the chandelier and pendant lighting in the kitchen and dining areas. That red cast guard adds the ideal splash of color to the whitewashed wood siding without overpowering the simplicity of the porch.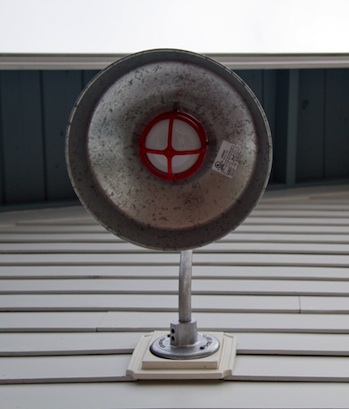 The Outback Warehouse Shade is one of our most popular gooseneck lights in the Barn Lighting section, so there's no doubt as to why the designers of the Vision House chose to use it on this inviting deck area. Just like so many of our other lighting options, the possibilities are nearly endless when it comes to customization. The Outback Warehouse Shade is also available in the Barn Pendants category should you prefer to stem mount it underneath an overhang, or use its cord hung cousin inside over your kitchen sink. The warehouse shade style has been proven to be so versatile in the Vision House, and it doesn't look like it'll be going away anytime soon!