Orlando Vision House 2011 | Living Room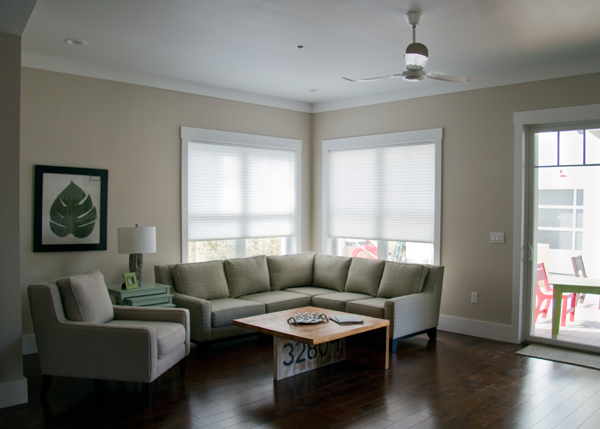 We resume our in depth tour of the Vision House Orlando 2011 today…
Like the other common areas of the Vision House, the living room's design is kept simple yet highly stylish. The neutral wall color is complemented by a light green sectional sofa and off white armchair; even the large organic leaf on the wall gives this "green" home a whole new meaning! A little bit of eccentricity is brought into the room by the rustic wooden coffee table – notice the center support. It reads 32804, which is the Orlando Zip Code of the Vision House!

Last week we presented you with photos of the nursery and children's bedroom. You may remember the ceiling fan used in the nursery, and notice a similar feature between that shown today. The fan installed in the living room is a commercial ceiling fan, but it is perfect for residential use as well. It's reversible motor is beneficial no matter the season – whether it is working to keep the temperature even throughout the Orlando winter, or pushing the cool air downwards in the summer. Imagine relaxing in the armchair on a beautiful spring day with the windows open and fan spinning. Thankfully the commercial fan does not distract from the beautiful simplicity of the living room, but still proves its functionality – especially when this room is full of guests milling about.
Check out our affordable collection of commercial ceiling fans online, all of which are built for years of unequivocal use. These fans come with the option to add a fan guard if safety is your concern, or you want a more industrialized look from your fan. Also, think about adding a speed control to your order; these speed controls are handy when you are just too comfortable to get up!