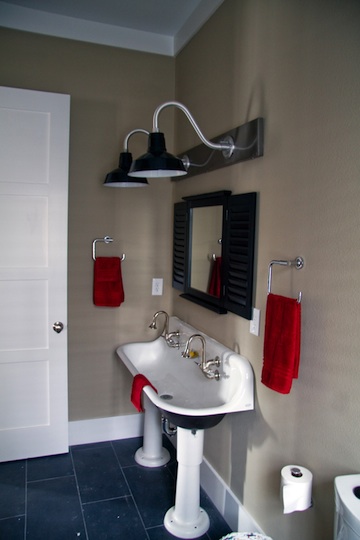 Orlando Vision House 2011 | Children's Bathroom Lighting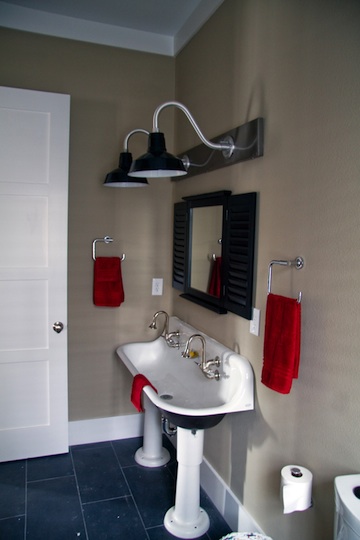 Chances are you've already read about the Vision House Orlando 2011 on our blog, and you are probably hooked and wanting to know more! Well, fear no more, as we have our next installment in the Vision House series. Today, we're showcasing the children's bathroom from the energy efficient home in the historic College Park neighborhood.

From the looks of this bathroom it is so easy to see how well the design is carried throughout the Vision House. The shutters flanking the vanity mirror bring to mind the hurricane shutters featured on the exterior of the home. Similarly, those bright red hand towels reflect the finish on the exterior gooseneck lighting. However, when you first enter this barn-inspired washroom, it most likely isn't the hand towels or shuttered mirror you first notice. Your eye probably catches the two porcelain gooseneck lights mounted above the vanity. The gooseneck arms used on these lights is even reflected in the faucets of the trough sink. Coincidence? We think not!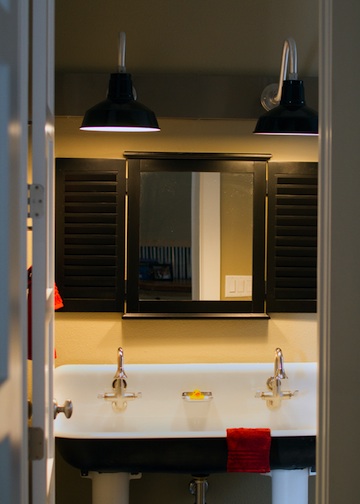 Wall sconces this flawless can only come from one place, Barn Light Electric! Shown here are our 12″ Goodrich® Dino Porcelain Gooseneck Lights — one of the many selections from our line of porcelain barn lighting, starting at $219.00. The Goodrich® Dino features lines and angles similar to its larger counterpart, a 16″ Goodrich® Sky Chief porcelain shade, but in a more compact version. The 10″ Goodrich® Esso porcelain shade is the more petite doppelganger to the Dino and Sky Chief shades, should you want to use this design in an even smaller area. The porcelain enamel is baked onto each shade; this process makes your chosen finish longer lasting and all the more durable! Available with several finishes and mounting options like porcelain stem mount lights or pendant lighting, you are bound to find something to enhance your own existing design!