Optimum Lighting With A Modern Opti Pendant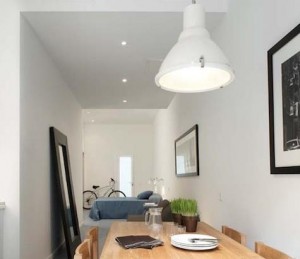 They say it's sometimes best to start with a blank canvas. But what happens when you decide to leave it all white? Why, your possibilities become endless!
This design photo comes from our friends at Remodelista – The Sourcebook for the Considered Home. Similar, yet slightly different from our other favorite design blogs (Decorology or Apartment Therapy), you can find not only stylish trends from America, but from Europe and other parts of the world as well.

The trendy styles of today often include very minimalist design elements. They, to say the least, start with a blank canvas – and leave it that way. The stark white walls and ceilings make a room seem larger than it really is. It allows for natural light the move freely throughout the space, and only the basic necessities are left to add color back in!
Without wanting to disrupt the flow of the room, the designer of the Whotells in Barcelona, Spain, chose a modern, sleek white pendant to hang over the butcher block table. Similar to our Opti Pendant, this coordinating fixture may not be needed in the daytime, but at night its able to provide subtle, focused lighting for the kitchen area – far more than what the nearby recessed lighting can give off.
Depending on the size of your space, our Opti Pendant is available in a 12″ or 16″ shade. Whether you're looking to coordinate the color of your lighting, or if you'd like to make your fixture the ultimate focal point in your space; the Opti Pendant is available in almost 40 finish options! This fully customizable fixture can blend into any style of today's home – Loft, Bungalow, Ranch or Farmhouse and can adapt to several ceiling heights. It can be hung via cord or stem mount and is available in a flush mount option as well.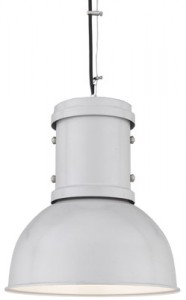 Pricing As Shown: 12″ Opti Pendant in 93-White Finish, Black Cord Hung – $299.00. Additional sizes and options available.