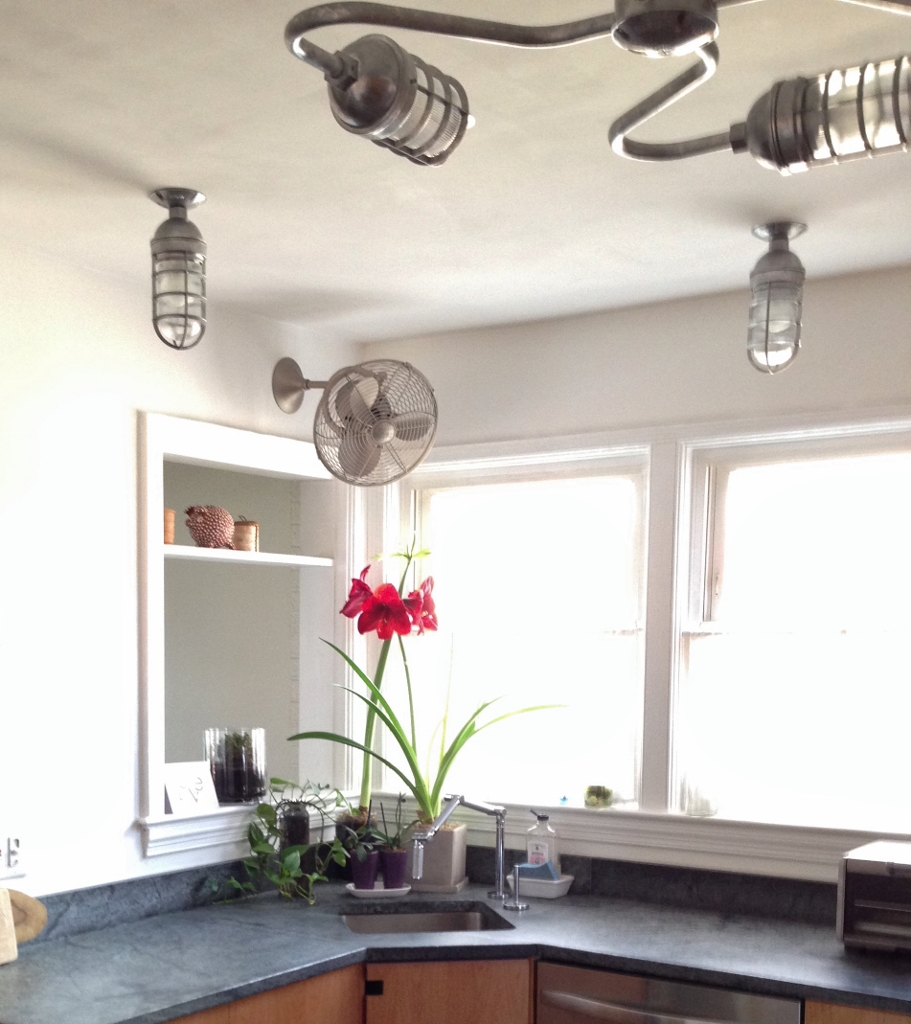 Industrial Lighting Gives 1950s Kitchen New Vibe
When thinking about a full-gut remodel — especially in a busy space like the kitchen — planning is critical. Lisa, from Harrisonburg, Virginia, spent about two years online looking at kitchen plans and gathering ideas before demolition began in her 1950's-era kitchen. The space needed major work to bring it forward at least half a century.
"I was going for a modern, open feel with an industrial vibe," Lisa says. "We opened up the space by removing the top cabinets on one side and a built-in soffit over the sink." During one of her many online searches, Lisa discovered Barn Light Electric's collection of Chandeliers.
"I fell in love with the Orbiter Chandelier the minute I saw it," Lisa says. "I'm not a fan of cookie-cutter design, so I was looking for unique design features. These industrial light fixtures were perfect for the aesthetic I had envisioned."
Lisa customized her new American-made chandelier with a Galvanized finish, 12″ stem, standard cast guard, and ribbed glass.
"Nearly everything in my new kitchen is made in the USA — from the lights and the appliances to the locally sourced Virginia soapstone and the cabinets made by Modus Workshop here in town," Lisa explains. "I was pleased to be able to buy American, but style was also an important factor. The vast number of options for customization at Barn Light Electric was very appealing."
For the sink area, Lisa chose the complementary Industrial Guard Stem Mount Pendant also in a Galvanized finish. This pair of rugged ceiling lights feature the standard cast guard and ribbed glass to match the Orbiter Chandelier.
"I chose these lights for over the counter because they coordinated well and I really love the look of them," she says. "The galvanized finish gives the industrial vibe I was seeking, and I like that the ribbed glass camouflages the light bulbs a little bit and lessens the glare." The two years of careful planning paid off in an updated kitchen complete with lighting that is both functional and fun.
"I really love fixtures that are quirky and out-of-the-ordinary,"she says. "The Orbiter is so unique — I just love it!"
Photos courtesy of the homeowner