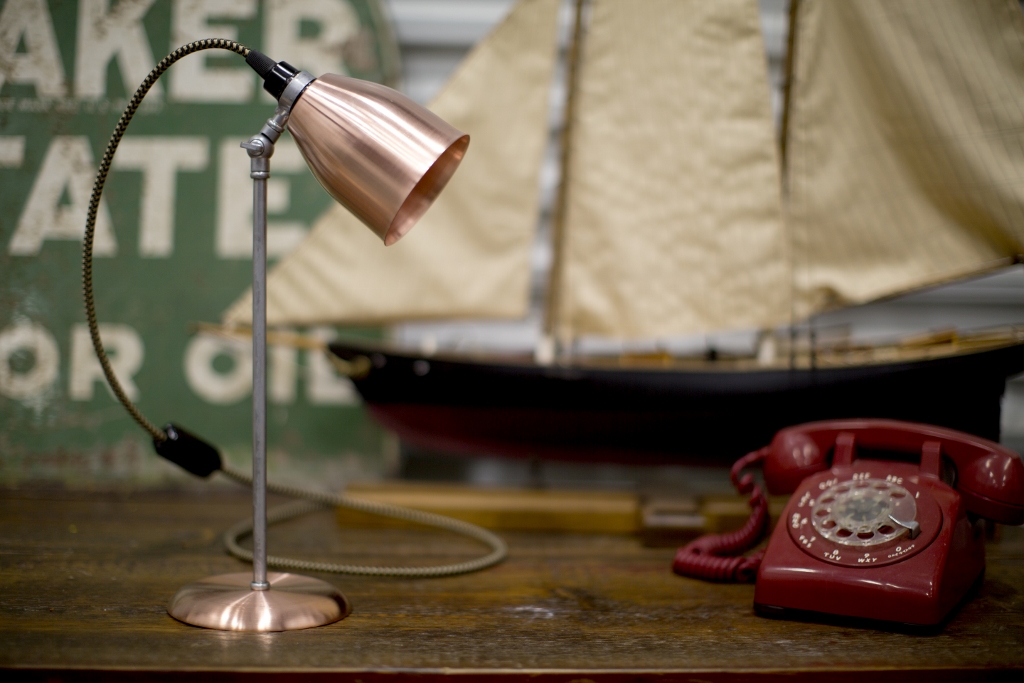 Table Lamps Offer So Much More than Functionality
Of all the types of lighting at your disposal to brighten up a space, the humble table lamp is often overlooked. Pendant lighting, recessed lights, even wall sconces get all the hype and attention, yet a purposefully placed table lamp can not only add illumination where it's needed, but the wide range of styles, colors, and cord accessories available can make these portable light fixtures an integral part of any room design.
The Bomber Retro Desk Lamp, shown here in Sommer Collier's A Spicy Perspective offices, provides dedicated task lighting to the oversized desk and creates a homey feel. The brilliant Barn Red finish color adds a punch of modern color to the space.
This American-made table lamp comes in two shade and stem sizes with 12 cord colors and 30 finish colors to choose from including this delightful Teal shade — perfect for a beach cottage!
For something a bit smaller consider the Lovell Task Lamp. Hand crafted from commercial grade materials, this 14 1/2″ desk lamp features an adjustable arm so you can swivel the light to the task at hand. Does creamy Jadite complement your bedroom?
Or perhaps this bold Magenta will become the focal point on your bookshelf!
Our customizing options extend to the stem finish as well — choose a Galvanized stem or a Raw Brass one like this.
Cording options also allow you to add personality to your table lamp. You could opt for a solid cotton cord in Black, White or Red, or jazz things up a bit with Black & Pink, Gold & White, or maybe a more subtle Black & Brown.
For a timeless look, you can't do much better than copper. As an accent piece on bookshelves, end tables, and in the home office, the Lovell Task Lamp finished in copper offers a classic look that adds elegance to a space even when turned off.
The craftsmanship and attention to detail in this table lamp — from the hand spun copper shade, to the inline on/off switch and the weighted base to prevent tipping — make this plug-in lamp truly one of a kind!