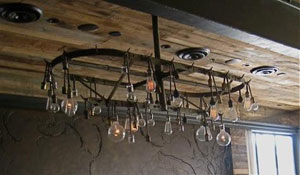 An Unconventional Rustic Chandelier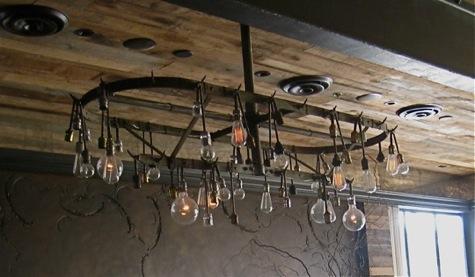 Today's post is a little on the unconventional side, but we're always about inspiring those searching for unique and out of the box lighting ideas, so here goes!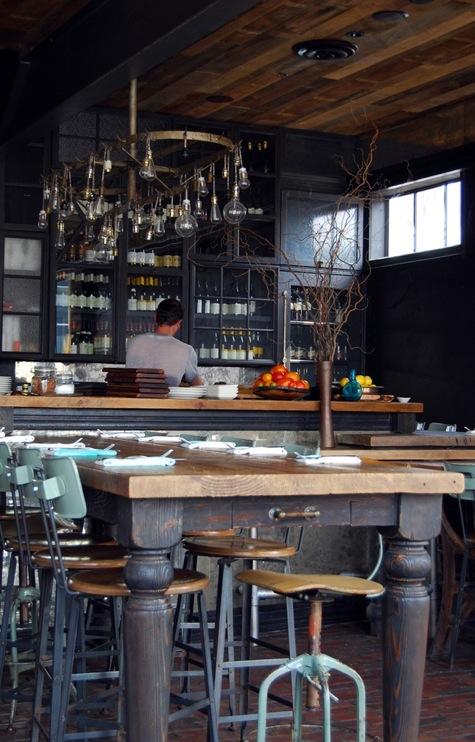 At Gjelina restaurant in Los Angeles, the hired design team improvised a little when it came to their interior lighting choices. Just one of many salvaged pieces found within the eatery, their rustic chandelier has a unique history behind it – it was originally a meat hook. That's right, a piece once used at the local butcher shop!

The improvised rustic chandelier is just one example of Gjelina's creative application of salvaged materials. Gjelina's wood-clad ceiling is made from old planks used in an old Oregon barn; the flooring was also laid with bricks from an old warehouse.
As you can see in the photos posted above, this chandelier stands out as one of the most visually appealing areas of the room. To keep with the theme, designers chose none other than turn of the century style light bulbs. A combination of both Nostalgic Edison Bulbs and G-40 Globe Light Bulbs were a great choice! G-40 bulbs take on a somewhat modern look when hung alone, but their use within the rustic lighting today, they are still ultra vintage looking!
The Edison Bulbs have a definite turn of the century look to them. Some are taller and thinner, while other styles have a rounder, smaller shape. They also bare a classic exposed squirrel cage filament, not found with today's standard light bulbs or energy saving CFL's. These reproductions are commonly added onto orders to bring the finishing touch to industrial lights!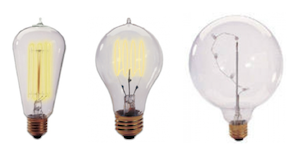 "The food lived up to the billing; however, we found ourselves copiously taking notes on the compelling interior, designed by Culver City–based Modern Arc. Particularly compelling is the industrial chandelier substitute: mismatched bulbs hung in clusters from an oval hanging meat hook." – Remodelista

Photos Courtesy of Remodelista.com