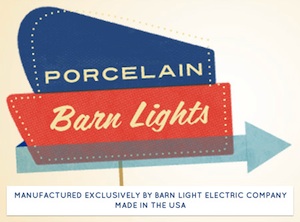 Dual Stem Mount Lights – Double the Light, Double the Style
Due to popular demand, Barn Light Electric has further expanded its vast collection of porcelain barn lights! Now, you can not only get one, but two stylish porcelain lights for your home or business. Introducing the newest Benjamin® stem mount lights…

The newest Benjamin® stem mounts recently released include the Speedway Shallow Bowl Pendant and the Polly Porcelain Stem Mount. Both models come with two 12 inch shades and aluminum stems. Aluminum stems lengths can be ordered in sizes ranging from 6 to 48 inches – you can choose which works best for you depending on your ceiling height.
This 2-light, mini chandelier design is ideal for areas of your home where you may have only one junction box, but need more light than what only one pendant can provide. This dual set up will help
cover areas like long dining room tables or islands.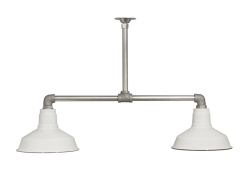 If you've come across Barn Light Electric's porcelain barn lights before, you'll recognize the shades used on both of these stem mounts. The Polly Porcelain Stem Mount (shown in white) comes with the same shades that are used on the Goodrich® Dino and the Ivanhoe® Dino Cotton Cord Pendant. The Dino shade has been featured on realsimple.com in a stylish laundry room makeover!
On the Speedway Shallow Bowl Pendant (shown in yellow), you'll see the same shade found on the Goodrich® Aero Gooseneck Light and the Ivanhoe®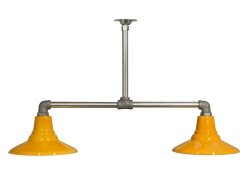 Aero Shallow Bowl Pendant. This sleek and aerodynamic shade is one of the most popular styles sold at Barn Light Electric. Due to its close resemblance to the light fixtures once used at gas stations, auto shops and warehouses, the Aero shade is sometimes referred to as a "gas station light."
Be sure to not miss the other dual stem mount lights offered as well; for large and open areas of your home, these porcelain pendants are a must!