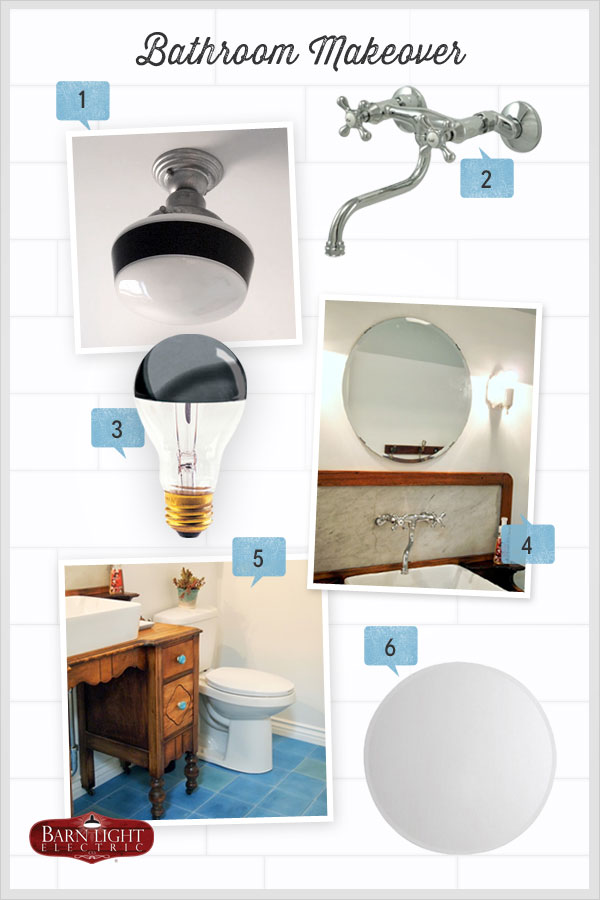 Style Me Sunday: DIY Eclectic Bathroom
We get excited about seeing your projects — really excited. Last week we received an email from a creative customer whose vintage-inspired bathroom had me itching to take a trip to the nearest antique store to re-do my own front bath. You might remember our featured customer from Friday, Khanh Morales. Khanh was more than helpful with detailing how she took a blank canvas of a studio bath and turned it into a showroom for her antiquing addiction.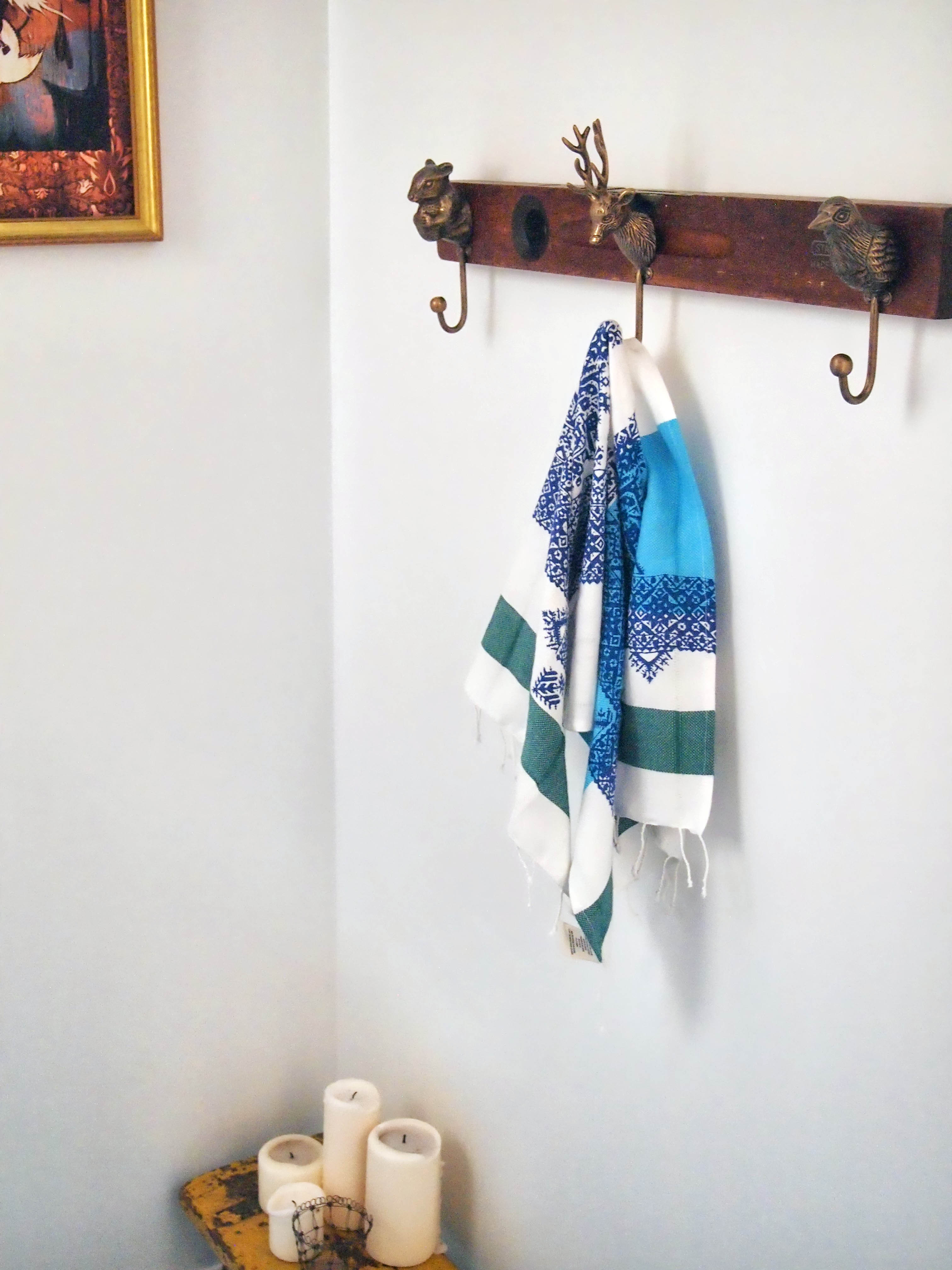 Khanh described this space as an art studio added on to her 1931 English Tudor home. Its half-bath was connected to her art studio and was in much need of some TLC. "We had a small budget with our bathroom," she noted, "so the light and the floor tiles were our splurge. The light just makes the room, especially with that beautiful blue floor." The rest of the bathroom decor came from her extensive collection of antique and thrifted goods. While the space is understated, its eclectic accents share the owner's personality and stories.
Loving the vanity and lighting? What about those bright knobs? This Style Me Sunday, we're sharing Khanh's resource list to this unique space.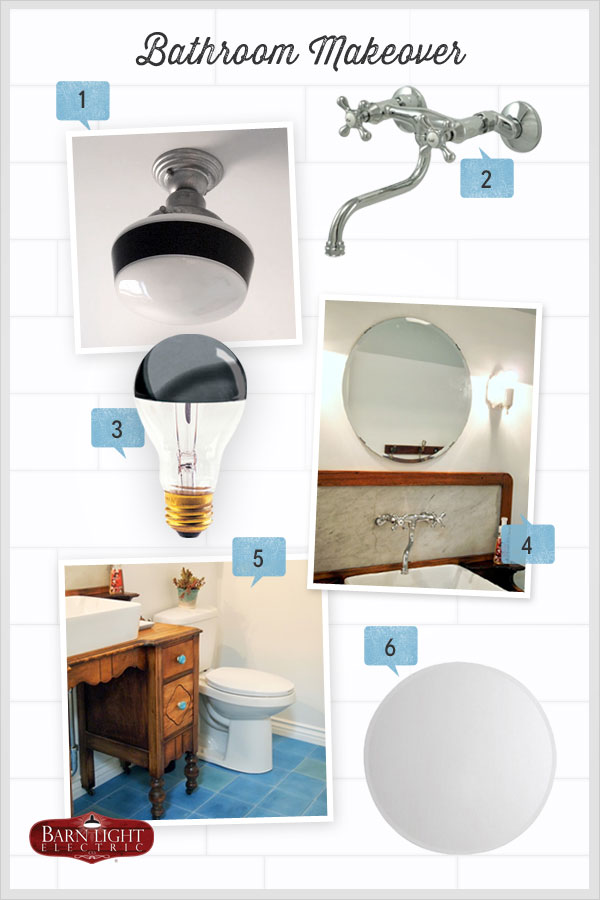 1. Wanting to carry on the Art Deco vibe from the the rest of her home design, Khanh selected our Intermediate Schoolhouse Semi-Flush Mount Light. The small, opalescent globe and dramatic black stripe makes a lovely impact while the galvanized finish adds a little rustic flair that coordinates with her vanity.
2. The vanity was a DIY project that Khanh and her husband created combining a hand-me-down secretary desk purchased from Craigslist with a porcelain basin and vintage back splash. It took some elbow grease to sand down the wood desk and vintage backsplash, but after re-staining it looks stunning. They were able to connect a modern Kingston Brass faucet to complete the look.
3.&4. For vanity lighting, these DIY-ers opted for simple sconces on both sides of the mirror. Half-Chrome bulbs add sparkle and shine to these bare-socket sconces.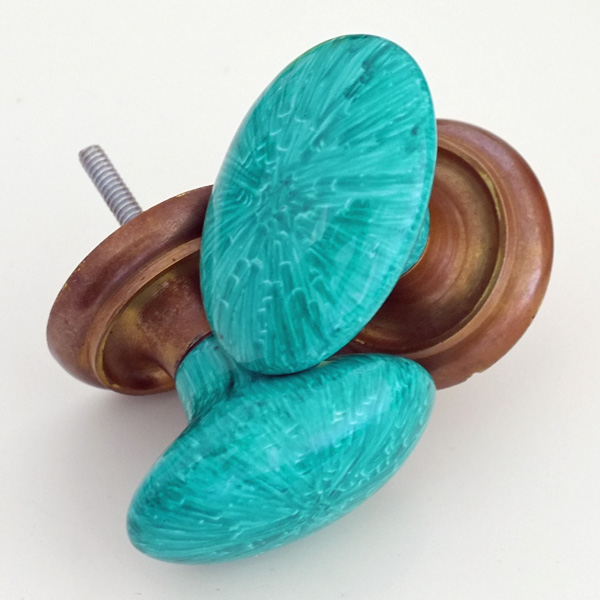 DIY Faux Malachite Knobs Image courtesy of Teal and Lime blog.

5. One of our favorite elements of the space is her eye-catching aqua knobs that coordinate with her custom flooring. If you're into adding little pops of color without wanting to break the bank, we've got the DIY tutorial for you! Blogger Jackie from Teal and Lime has found a nifty way to get the look of malachite knobs with sharpies! See her easy tutorial here.
6. What would a bathroom be without a mirror? Khanh opted for the Kolja Mirror from Ikea.
Thank you Khanh Morales for supplying pictures and the details of your inspiring space! If you are a Barn Light Electric customer who is interested in being featured on the blog, please feel free to submit your photos and stories to us here!