Blog Overview | Remodelista

Remodelista is a rising design blog with a national following. In addition to the blog, editors also maintain the Remodelista Architect / Designer Directory, a selective listing of architects, interior designers and lighting designers around the world, chosen for their "Commitment to excellent design and to furthering innovative and sustainable design." Firm listings are organized by geographic region, practice areas, and project type.

Remodelista's editors: Julie, Janet, Sarah and Francesca, are a group of friends who share interior design sensibilities and favor classic and livable over trendy – as well as transient and streamlined interiors over cluttered environments. Their style is minimalist and they prefer thoughtfully designed products over mass-market, disposable goods and they believe the best advice comes from like-minded friends.
If you're design savvy, you'll realize we've done the hard work for you. If you're a neophyte, you can't go wrong. Whether you're embarking on the grueling marathon known as the remodel or simply looking for a design voyeur fix, we invite you to peruse our offerings.
Barn Light Electric Co.® products featured on Remodelista.com include: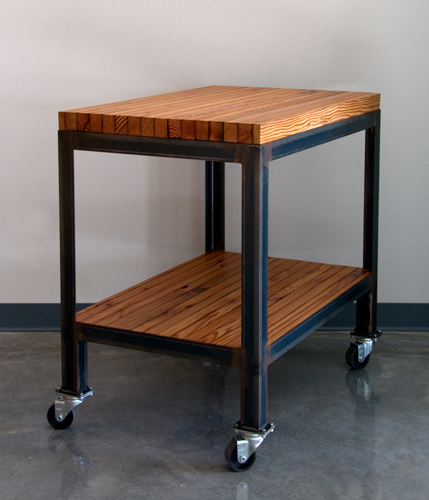 Furniture: Vintage Industrial Workstation at Barn Light Electric Co.® Remodelista called Barn Light Electric Co.® a "Favorite source for well-priced utilitarian-chic lighting."
Remodelista's post highlighted the latest addition in the vintage industrial furniture line. "We'd use the Vintage Industrial Workstation as a cocktail cart, a portable desk, or a kitchen work surface; it's 24 inches wide and 36 inches long and is currently on sale for $805.50 (regularly priced at $895)"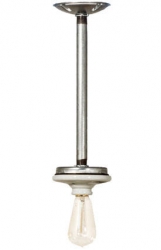 Lighting: Retro Renovation Light at Barn Light Electric Co.®
"Barn Light Electric Co.® found a trove of vintage Leviton porcelain keyless ceiling receptacles and built them into a galvanized stem mount fixture to create the well-priced Retro Renovation Light; $79 with a 6-inch stem."
10 Easy Pieces: Retro Bath Sconces
Remodelista devoted a blog post to retro/industrial lighting for a bathroom remodel. The post featured the Austin Sconce (pictured above) and the Atomic Topless Sconce. "Barn Light Electric Co.®, an admirable outfit that sells US-made, commercial-grade lighting."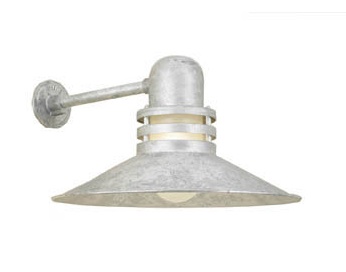 10 Easy Pieces: Barnhouse-Style Outdoor Lighting
Five of the 10 items in Remodelista's list of classic barnhouse-style lighting fixtures for the outdoors are from Barn Light Electric Co.® : The Atomic Topless Sconce, the Austin Sconce, Mini Emblem Shade, Wall Mount Revival Sconce (pictured above) and the Rodeo 10″ Warehouse Shade.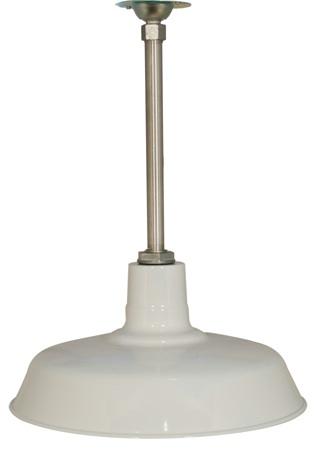 Steal This Look: Instant Camp-Style Kitchen
Remodelista featured the Benjamin® Sky Chief Porcelain Stem Mount Light in its post about a low-cost kitchen in a 250-square-foot converted garage in Seattle, designed and built by artist and designer Michelle de la Vega. The kitchen was built using a mix of new elements and reclaimed materials from local salvage yards.
To view the official Remodelista page, visit: Remodelista.com.