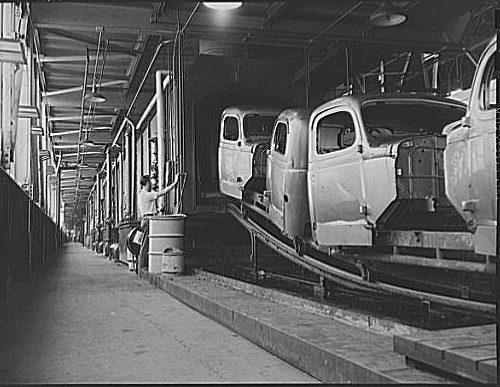 Warehouse Lighting's Role in WWII Army Vehicle Manufacturing

Did you know warehouse lighting played a key role in aiding the U.S. Army's fleet during World War 2?
With the U.S. military entrenched in a countless number of battles on multiple continents, the Department of Defense needed trucks and Jeeps to mobilize our troops over thousands of miles and in various countries. The unprecedented demand for automobiles led Chrysler, Ford and other automakers to devote their assembly lines to produce and make the autos needed by the U.S. Army. In these photos from the U.S. Library of Congress, you'll see where RLM warehouse shades helped mechanics as they prepared spy cars with the equipment needed for their special assignments.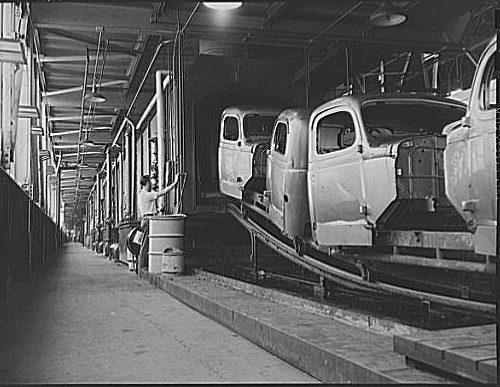 The concise beam of light supplied by the warehouse lighting increased workplace efficiency by supplying supplemental light in specific areas where the mechanics may have needed a pair of human hands before. The second photo shows an assembly line where the car cabs were placed into rust-proofing ovens. A series of warehouse lights similar to the vintage pendants made by Appleton and Benjamin®, shines on the next car in line. These cars are waiting to be treated with various chemicals to prevent the raw sheet metal from spreading rust after dents and scratches inflicted during combat.
"All wiring and appliances in Dodge Army reconnaissance cars are equipped with radio to facilitate operation in the field which are heavily insulated and shielded in every possible way to prevent interference with radio reception in these vehicles…..Crews of men operating in pits beneath the assembly line and at floor level carefully check, inspect and adjust virtually every nut and bolt of a Dodge Army truck as it is about to leave the assembly line and be turned over to U.S. Army inspectors." – U.S. Library of Congress.
To see more vintage barn lights, visit vintagebarnlighting.com