Minimalist Industrial Pendants
Barn Light Electric is proud to offer a vintage inspired pendant called the Indy Industrial Pendant. This drop cord fixture is nearly identical to that shown above in the photo today. Distinct features on the Indy include its minimal appearance and its authentic style turn key that can be used as an on/off switch or simply as a decorative feature.
The Indy Pendant's simplistic and minimalistic design makes it a perfect match for the stark white brick walls and rustic wood tables at Longman & Eagle Restaurant and Inn. Longman & Eagle successfully combined turn of the century design with an industrial farmhouse feel. This trendy restaurant is located in Logan Park, a Chicago neighborhood known for its historical establishments and boulevards.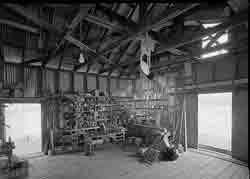 Another pendant resembling the Indy was used at the Northern Commercial Company's warehouse in Fairbanks, Alaska. This wooden warehouse was originally built in the late 1800's and was used as a general store, post office, exchange and a telegraph station for gold miners and tradesmen on the bank of Alaska's Yukon River. Throughout America's early Industrial Era, workers in factories across the country relied on drop cord industrial lighting for daily work.
At $85.00 each, the Indy is an affordable pendant for both large and small scale restaurants, like the one above. Each will come with eight feet of adjustable black or white cord (your choice!) and was among the most popular barn pendants highlighted in our Top 10 Pendant Lights Under $100!
For a light bulb like the one pictured at Longman & Eagle, consider the 60 watt G-40 Standard Base Globe Light Bulb or a Nostalgic Edison Light Bulb with the squirrel cage filament to complete the vintage look of this piece.
Besides storefronts and dining areas, other places to consider installing the Indy include storage areas like closets and cellars where there's often a lack of sufficient lighting for simple and quick tasks. Two Napa Valley Wineries incorporated similar pendant light for their wine tasting rooms and wine storage areas.
Top Photo Courtesy of Remodelista and Longman & Eagle, Bottom Photo Courtesy of The Library of Congress