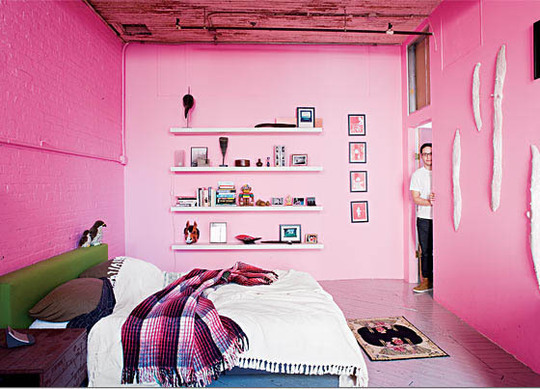 Mini Barn Lights Could Be the Finishing Touch to This Pink Bedroom
While we love all things vintage and industrial at Barn Light Electric, we also enjoy a little whimsical and modern design every now and then as well. So why not combine industrial architecture with a fun, bright color – like pink! Now, we might not recommend a bright bubblegum hue for the fainthearted – to use a shade of pink like this, you've got to go big or go home!

The exposed electrical lines and pink painted brick walls unpredictably bring a playful look to this factory-style room. The collection of knick-knacks on the white shelves showcase the owner's hobbies and interests without looking cluttered. This adds character to this vivacious room, don't you think?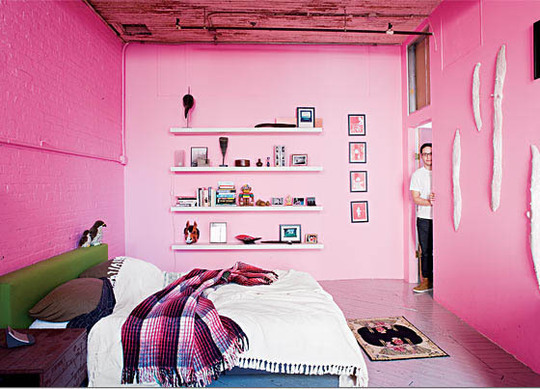 However, we did notice something missing – this bedroom could really use some funky lighting! Our recommendation? Add two mini barn lights to either side of the bed. This way, there is still artificial light being projected into the room, while also providing the perfect bedside lights for a little nighttime reading.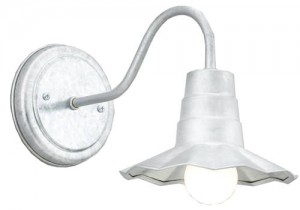 We would love to see our Barn Light Mini Radial Wave Shade in this room. The waves along the rim would make it an interesting yet fitting choice for it. Plus, choosing it any of our white or metallic finishes, this sconce would add another industrialized attribute while still staying whimsical.
Love the Mini Radial Wave Shade, but think it may be too small for your space? Check out its larger counterparts: the Aztec Sconce, Radial Wave Pendant and the Radial Wave Gooseneck Light. All three of these unique barn lights incorporate the waved rim design and are available for your personal customization, just like the one shown on the left.
Do you have photos of your Radial Wave Barn Lights? Send them our way, we'd love to see your finished project and feature it in our Photo Gallery!
Top Photo Courtesy of Apartment Therapy