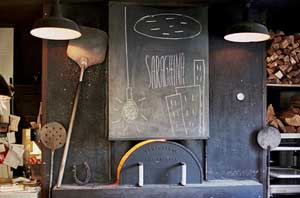 Mama Mia, That's Not Your Average Pizzaria!
Brooklyn is home to countless pizzerias, but Saraghina Restaurant clearly sets itself apart from the rest of the pack! With modern day, trendy decor and stylish lighting options like porcelain pendants, it's no wonder why customers are flocking in for a look (and taste)!

At the front of Saraghina's dining room, near the wood-burning oven, rest two black porcelain pendant lights. These lights supply the cook with focused lighting over one of the busiest areas of the kitchen. Here, task lighting is greatly needed to load and unload fresh pizza (mmmm, fresh pizza)…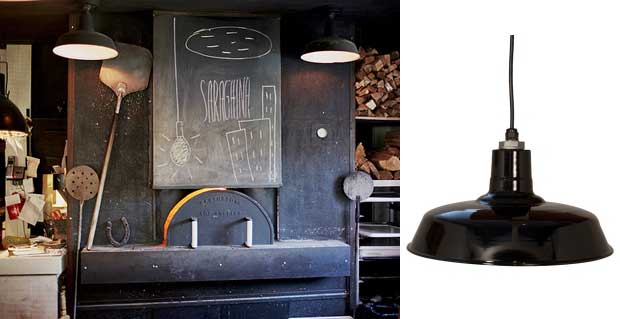 Barn Light Electric offers similar versions with our Ivanhoe® Pendant Lighting portion online. One of the most popular styles, The Ivanhoe® Sky Chief Warehouse Porcelain Pendant, features a 16″ shade that is available in a number of finishes, including a sleek black like the ones shown today. Like those noted at Saraghina, the Sky Chief's design is based on the original barn light designs once made in the early 1900's. The Sky Chief starts at $169.00 each and is one of our most versatile barn lights for your home or business! You can even purchase these shades in a stem mount or gooseneck option.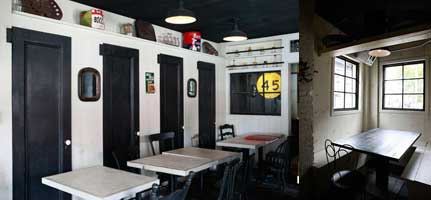 Saraghina's modern day industrial farmhouse setting at has even received praise in restaurant reviews, such as Lacasapark.com:
"There's whole back of the restaurant space with a room dedicated for the wine and communal long table, which definitely gives this restaurant a garage or barn like feel. It's rustic and cozy … The space and setting is light yet rustic and somewhat reminds you those chick upstate farm shops mixed with bit of flea market vibe… The place makes you think you want to quit whatever you do and want to open a restaurant just one like it. It's a very cool space."
*Photos Courtesy of Lacasapark.com and ultraclay.com