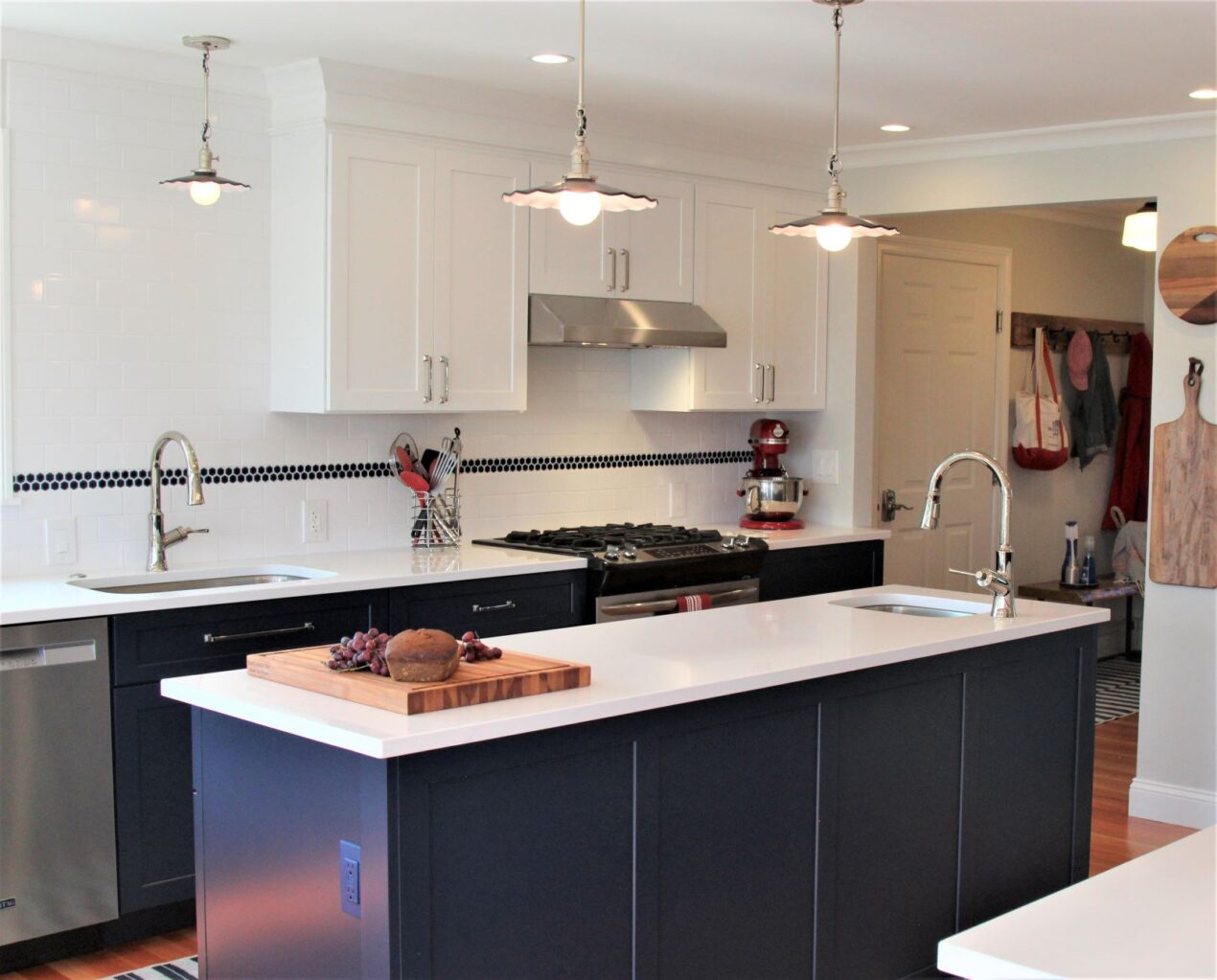 Wavy Pendant Lights Add Nautical Flair to Kitchen Reno
The design and layout of a kitchen can be perfect for one family but nonfunctional for another. When Beth and her family moved into their coastal Maine home about four years ago, the kitchen was in good shape for a 20-year-old home. But they soon discovered that it didn't work well for their large family gatherings.
"There was little usable storage, virtually no workable counter space, and it was surprisingly dark for a south-facing kitchen," Beth says. "We decided to remodel to improve the layout and flow, increase storage space, add working counter space so multiple people could help in the kitchen, and brighten up the look and feel."
A redesigned layout with new flooring, cabinets, countertops, tile, paint, and lighting transformed the space. Beth wanted a classic coastal feel to the kitchen, so she opted for a palette of navy blue and white with nickel accents in the hardware, faucets, and lighting to add a nautical reference without being overly themed.
Beth searched for lighting that would not only complement the cabinets and countertops but be distinctive without distracting from the view of the ocean. A blog post with a roundup of colorful kitchen pendants introduced Beth to Barn Light Electric. She also had help from Beth Eneguess of 3W Design in Concord, New Hampshire, with the layout and placement of the lighting.
"I appreciate that Barn Light offers American-made lighting that is made to order," she explains. "Having so many options available made it difficult to choose, but it was great to have such a resource! I also found Barn Light's prices to be really reasonable for such a high-quality product."
Beth chose the Fluted Shade Stem & Loop Pendant to accent her island and sink. She customized the two pendants over the island with 12″ shades, a powder coat Black finish, and Black cotton twist cords. The 12″ stem, canopy, and socket feature a Nickel finish with a knob switch.
"The island is about seven feet long so we felt that two of the 12″ pendants, spaced equally from the ends of the island, were the best choice for even light and uncluttered sightlines," she notes. "The fluted shade is a subtle seaside reference, and I was attracted to the polished nickel hardware and rigid metal stem."
While the original plan was for a flush mount light over the sink, Beth decided that another Fluted Shade Stem & Loop Pendant would offer a more consistent look. She customized this handcrafted pendant with a slightly smaller 10″ shade and a 6″ stem for a shorter drop.
"I love everything about the pendants. They look crisp and clean, they're well made, and substantial looking," Beth says. "They're distinctive and add a subtle seaside element to the room which we like. They feel timeless and classic, but still fresh."
Photos courtesy of the homeowner