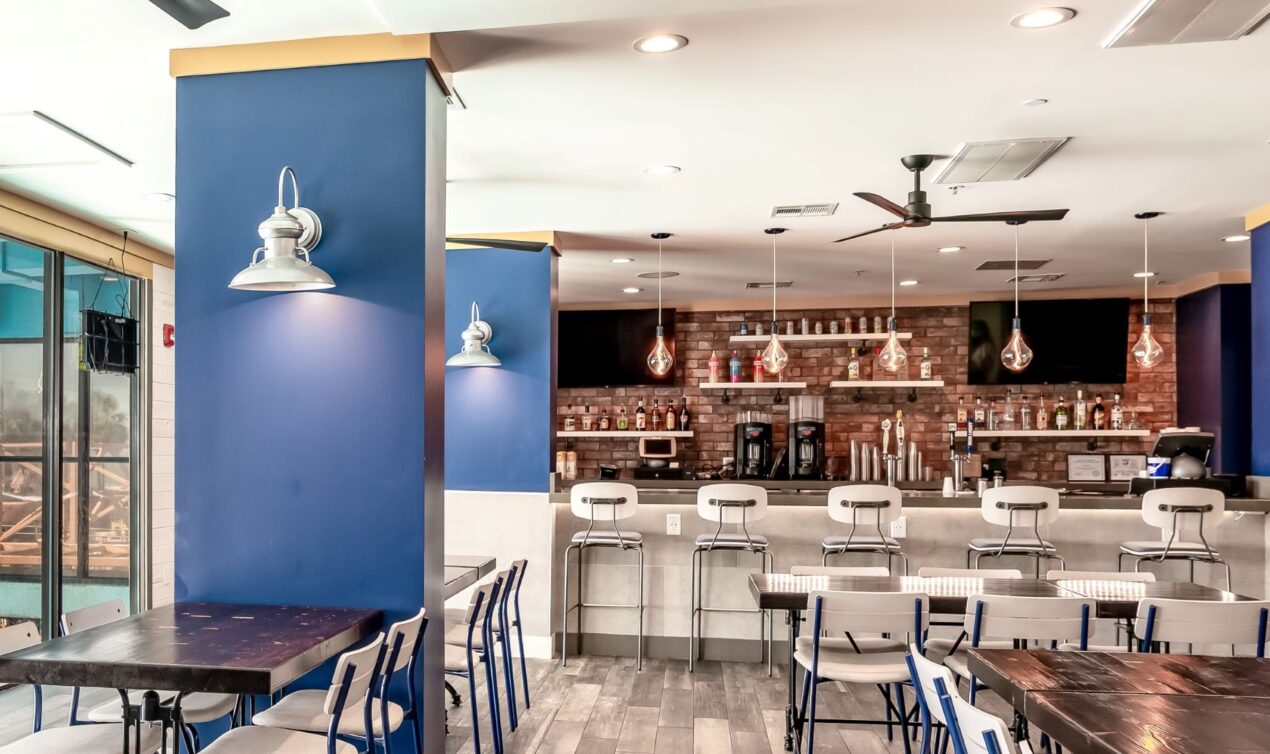 LED Pendants, Wall Sconces Offer Both Savings & Style to New Restaurant
It's barely winter but we're already dreaming of next summer and warm, sunny days at the beach. Topping our destination list is the Breakers Resort in Myrtle Beach, South Carolina, where the Rusty Reel Restaurant underwent a massive renovation earlier this year.
The ground-level space was completely gutted and redesigned by the talented team from Interior Quality Designs. Patrons are greeted with rustic wood flooring, pops of cobalt blue, and expansive windows with views to the beach and beyond.
Restaurants like the Rusty Reel and other commercial spaces require lighting that is rugged and low maintenance. The design team turned to Barn Light Electric to find high-quality lighting that could not only fulfill those needs, but also play a role in adding a splash of style to the space.
Adorning the bright blue columns within the restaurant are eight Laramie LED Wall Sconces. These handcrafted wall lights are customized with 14″ shades, a Galvanized finish, and a flat lens. The design team also chose a 1250 lumen LED with a 4000K cool white color temperature.
Utilizing LED lighting in commercial venues is a wise choice thanks to the savings on energy and maintenance time and costs. Barn Light's line of LED lighting features an integrated LED module which is housed in the backing plate of these wall sconces. While incandescent bulbs typically last around 1,000 hours, this restaurant's LED wall lights should last an average of 50,000 hours.
Over the nearby bar, the design team chose the sleek, modern look of the Downtown Minimalist Cord Pendant. These pendants are customized with a Navy finish and gold-and-white cloth cords that add a hint of color and texture to the space.
The designers also added Voronoi II LED Tala Bulbs to the pendants creating a dramatic, eye-catching look. These mouth-blown glass bulbs feature an elongated droplet shape adorned with natural curves and indentations. This sculpted look offers high style with all of the environmentally friendly, budget-conscious benefits of LED. The best of both worlds!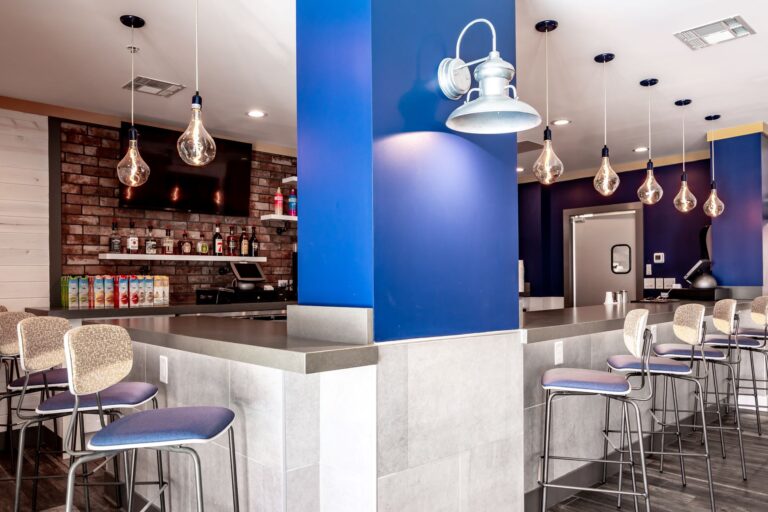 Barn Light Electric offers a commercial division to service our customers working on projects such as the Rusty Reel and other restaurants, hotels, office buildings, and retail stores. With one-on-one assistance from commercial agents and our in-house sales consultants, these designers, architects, engineers, and other professionals receive personal attention for all of their commercial needs!
Photos courtesy of Interior Quality Designs