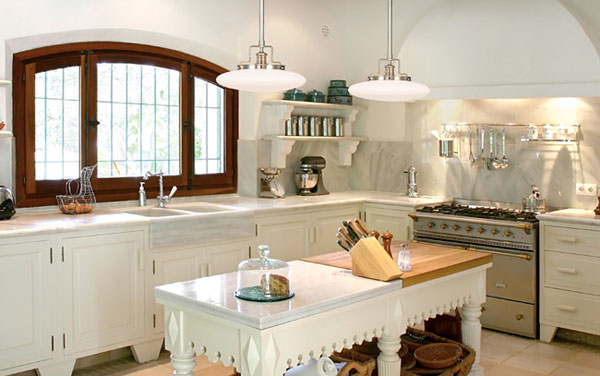 Victorian Kitchen Lighting For Decorative Islands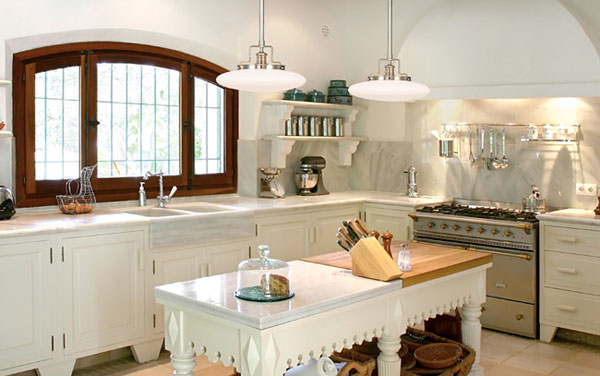 Customary of the Victorian Era, elegantly decorated kitchens dominated the architecture of this time period. Punctuating this style was the use of ornate wooden spindles, large open kitchen spaces, and ample amounts of counter space. This classic building style has found itself incorporated into new modern construction, with residential homeowners bringing this clean and functional style into their suburban homes. Through the use of subtle ornate styling tweaks, the modern-day Victorian kitchen has been adapted to fit almost any style of home, adding both sophistication and charm to create a unique cooking area.

The elements of this Victorian kitchen display a perfect balance between traditional style and modern comfort that is accompanied by white walls and cabinets, causing the slight details and variations to pop visually. For example, the use of marble for the countertop, backsplash, and farmhouse sink adds a tone of refinement to the simplified traditional composition of the countertop that would have originally been adorned with a patchwork of subway tiles.
Beyond the finer features of this classic Victorian kitchen rests the island, which is the focal point of this room. True to its Victorian inspiration this open kitchen island was positioned at the center of the room, and is held up by a series of decorative spindles. The split top appearance provides a contrast between the hard displayable surface of the marble, but offers a unique point of interest though the use of a wooden butchers block.
With such painstaking attention paid to this project, choosing the ideal pendant to match the tones and décor of this kitchen was just as important due to the positioning of the island. The significance of framing the kitchen around this island meant that anything above or below it needed to match both quality and authenticity of the era. Complete with a glossy opal shade and tubular accent arms, the Belmont Pendant combines Art Deco styling with classic Victorian elegance. This stem mounted pendant further relays the essence of this genre with a selection of finishes specifically made to match this era; offering Old Bronze, Polished Nickel, and Satin Nickel finishes to further recapture the refinement of the early 1900's. If your Victorian kitchen is in need of a touch of historic authenticity then the Belmont Pendant's sleek appearance is perfectly suited to provide a functional and stlyish alternative to other turn of the century island lighting.