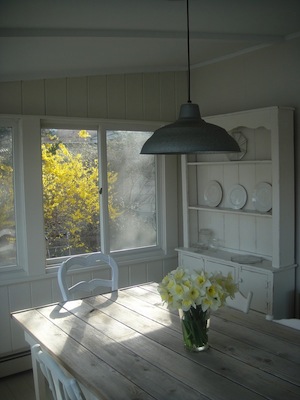 Industrial Lighting & Coastal Designs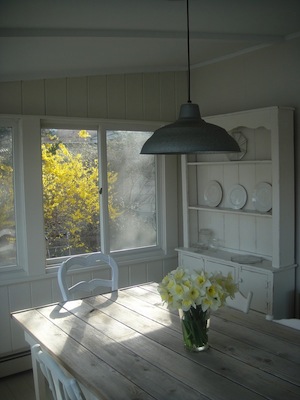 Every once in awhile, we like to reflect on previous customer submissions for inspiration. Recently, we've checked out Lori over at the Frugal Farmhouse, and noticed how on point she is with her lighting design choices! At her recent visit to the New York Gift Show, Lori noted that there were "more wire and industrial elements than ever" as well as "lots of coastal and beach house inspired accessories and lighting." We commend Lori on seamlessly combining these two different styles in the décor of your home, as well as throwing in a third perfect industrial farmhouse element!
If you are also looking to somehow incorporate these three designs into your home, consider some selections from our Discount Barn Lighting category. The 17" Warehouse Cord Hung Pendant is a fantastic choice to add a finishing touch to any room that needs that extra something. If you happen to be looking for lighting to add to your patio, the 17" Warehouse Stem Mount Pendant is UL rated for wet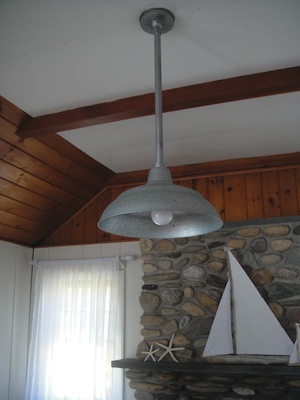 locations. Both warehouse pendants are available in six different finishes. Also available is a removable wire cage, should you wish to add that extra industrial touch that seems to be showing up all over design blogs and magazines!
Lori's personal motto when it comes to decorating is reflected in the warehouse pendants: "Things do not need to be expensive to be stylish." How fitting, as the cord hung pendant starts at $95.00, whereas the stem mount pendants starts at $119.00. Great prices with a high class look… gotta love it! Another huge plus – these pendants are kept in stock, along with the other stylish fixtures in our Warehouse Lighting category. Our in stock items ship within five business days, so if you're in a pinch and need your fixtures quick, we've got you covered!