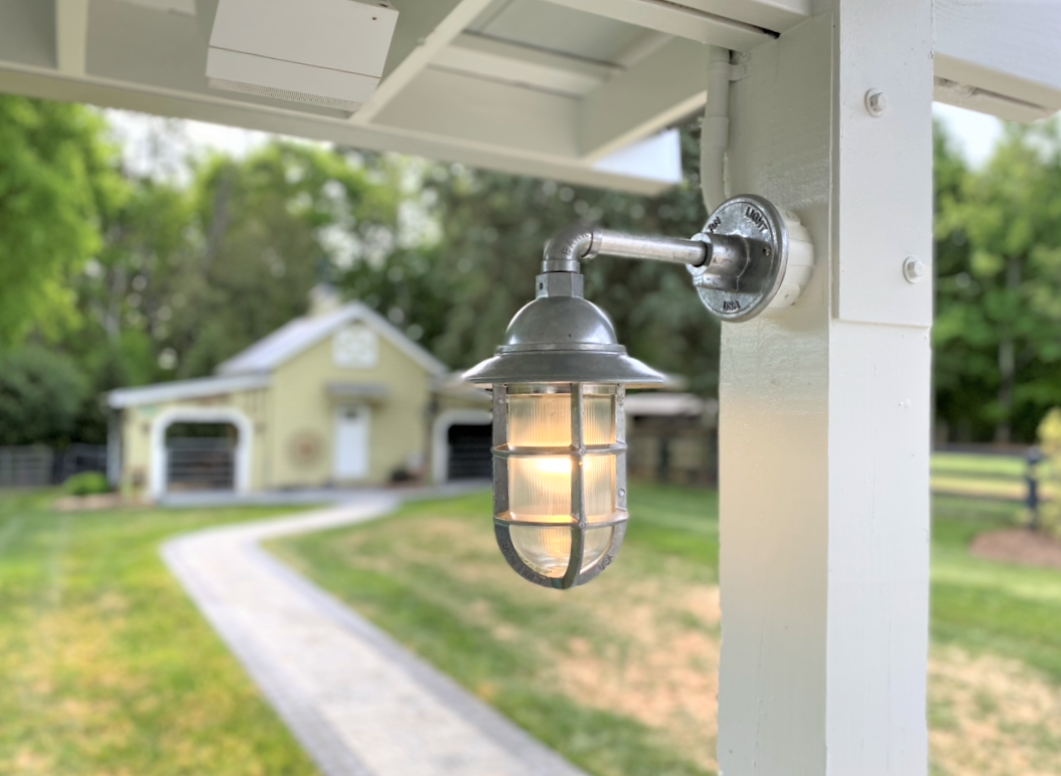 Industrial Farmhouse Lighting Highlights Exterior Renovation Project
When Allen's North Carolina home was built more than 80 years ago, the area was rich with farms that contributed to the agricultural economy of the time. As the nearby town of Charlotte continued to grow, the area became a bedroom community for commuters to the city, and the farms began to slowly disappear.
"Our home was part of an old dairy farm," Allen says. "The cows are gone, but today, it's home to several miniature donkeys, goats, horses, and chickens." When he decided to do an extensive renovation to the exterior of his home, Allen wanted to create an authentic 1930s-era farm feeling.
"We have James Hardie siding, new exterior doors and enclosed porch, Techo-Bloc hardscape, and, of course, Barn Light Electric lights!" he adds. "We wanted unique fixtures that fit the style of the home and American-made lights were a plus."
For the front porch, Allen chose the Industrial Guard Gooseneck Light to flank the door. He customized these handcrafted wall lights with a Jadite finish, G15 gooseneck arm, and a flared shade. He also chose the heavy-duty cast guard and ribbed glass for these fixtures.
"We like the Industrial Guard Goosenecks for the entry doors because they enhance the entry and the color is unique," Allen explains. "The cast guard encloses the bulb which makes it easy for me to hose off the fixture without getting water into the socket." A matching Jadite Industrial Guard Gooseneck adds light to the side porch door.
The back porch features a lower ceiling so Allen selected the complementary Industrial Guard Sconce, also in Jadite, for that space. It has the same heavy-duty cast guard, flared shade, and ribbed glass as the gooseneck lights.
"The back porch is a smaller area so the sconce light matches the others but consumes less space," he notes. "I feel like the ribbed glass gives the fixture a retro look."
For the carport and open-air patio, Allen chose the same Industrial Guard Sconce but went with a Galvanized finish. Eight of these American-made wall sconces are installed on posts and provide plenty of illumination and classic farmhouse style.
"These fixtures were ordered in a Galvanized finish to match other elements of the house," Allen says. "The gutters are galvalume and the roof is gray metal so the Galvanized barn lights fit the theme. By having the accent lights Galvanized and the entry door lights in Jadite, we enable the Jadite lights to stand out."
Allen also added two Machine Age Galvanized Ceiling Fans to stir the breezes on the patio during warm weather. These are customized with silver fan blades and a wall remote.
"We think these industrial fans look great alongside the Galvanized lights," Allen says. "I like that the light fixtures are high quality. I'm pretty sure these will remain stylish and on our home for a long time!"
Photos courtesy of the homeowner