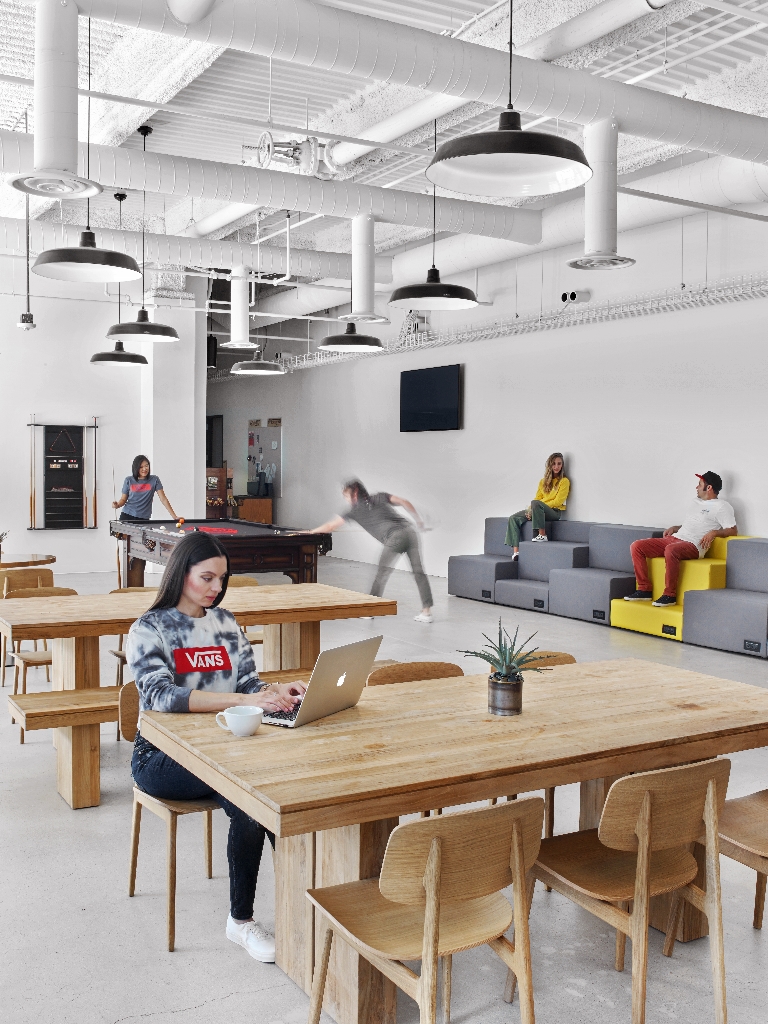 How To | Create a Dynamic Office Vibe with Furniture & Lighting
The office environment has come a long way since the fluorescent-lit, cube farm days of just a few years ago. Company CEOs and human resource pros figured out that happy employees are productive employees, and the office vibe plays a big role in how comfortable people feel at work.
Lighting and furniture make a world of difference in office décor, and we'd like to share some of our favorite examples with you on the blog today.
Many office spaces today trend towards a rugged, industrial aesthetic with exposed piping in the ceiling, standing desks, and easy-to-clean wood floors. The Arthur Writing Desk, above, fits right in with a durable metal framework plus handcrafted wooden top that establish a functional yet refined look.
For those who don't want to sit all day, the Brady Standing Desk offers an oversized profile meant for spreading work out or easy collaborative efforts. The wood top adds a warmth to the welded steel frame which can be finished in a variety of powder coat colors.
With fluorescent lights getting a bad rap for causing eye strain, many offices opt for more human-friendly and earth-friendly choices. The owners of this State Farm Insurance office chose the  Wilcox Deep Bowl Porcelain LED Pendant for its modern style and energy-efficient design. These ceiling lights feature 20″ shades with a Cherry Red finish, State Farm's official color, complemented by black-and-white cloth cords.
Out in California, the 500-plus employees at Vans enjoy The Commons area where they gather, eat, and collaborate under an open ceiling with a strong industrial vibe. Our Original™ Warehouse LED Pendants light the massive space and add visual interest. Far more energy efficient than traditional lighting options like incandescent bulbs and fluorescent tubing, these American-made LED lights help lower energy costs and reduce pollution.
Hayes Manufacturing, located in Fife Lake, Michigan, paid homage to its industrial roots by creating a vintage chic design for its new executive office suite and conference area. On one end of the room, the owners selected the Mercury 8-Light Chandelier to bring light to the conference table. This American-made rustic chandelier is customized with a Black finish, standard cast guard, and ribbed glass. Adding to the industrial character of the space are 14″ Avalon Stem Mount Pendants fitted with wire cages.
Our good friend Jowill Leano, a television designer for shows such as Hidden Potential and Extreme Makeover: Home Edition, tackled a difficult office renovation in Midtown Manhattan. In addition to offices, there were editing and screening rooms, equipment rooms, communal spaces, a kitchen, lobby, and conference room all with their own special requirements for color, soundproofing, and lighting.
"We wanted to keep the space bright and modern with pops of color. They had some furniture they wanted to reuse, and I wanted to add some rustic touches to warm it up a bit," Jowill explains. "The Wilcox Pendant from Barn Light Electric has a great shape and provides the perfect amount of light for this 8,000-square-foot office."
And while some offices still use fluorescent lights as the main source of illumination, barn lights serve as accent lighting and a way to add personality to the space. These Original™ Warehouse Gooseneck Lights break up the space in this office and provide a focal point on the support columns.
Matching Original™ Warehouse Pendants also offer visual relief in this large, open space. Thanks to the variety of shade styles, finish colors, and other customizing options, office lighting can be crafted to fit work spaces large and small complementing small business brands and Fortune 500 companies!
Vans photo courtesy of Rapt Studio