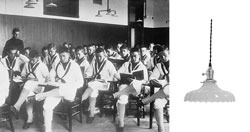 Historic Lighting | Clam Broth Shades & Cased Glass Pendants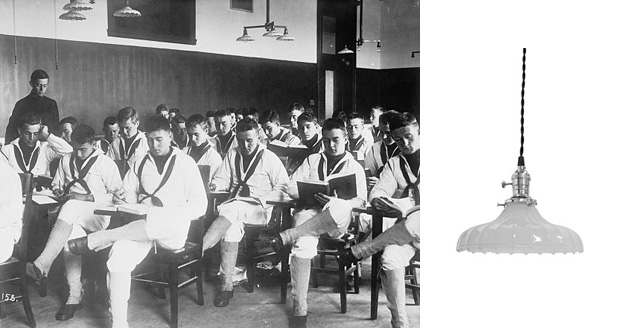 Glass Shade Pendants came in a variety of sizes, colors and styles in the early to mid-1900's. One of the most unique ones was called the Clam Broth Shade. The ruffled shade, shaped somewhat like a clam, has a frosted white appearance. When paired with a nickel or brass socket, it becomes a beautiful addition to even modern day homes today.
Within the left hand photo above, you'll notice these shades as stem mount lights. Paired in groups of three, the clam broth shades make a beautiful grouping, almost like a chandelier. These lights were installed to provide supplemental light over the rows of Navy desks, but in homes today, they're often used above kitchen islands. When shopping around on vintagebarnlighting.com, take note of the several styles of Clam Broth Shades, and be sure to think about adding an authentic vintage style light bulb to your order as well!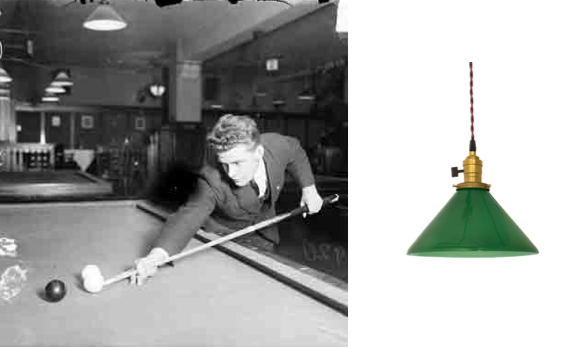 Another popular style of shade from the early 1900's was the Cased Glass Pendant. Popular within billiards halls, local bars and even libraries at the time, these vintage lights have a cone shape to direct their light downward onto the pool table below. They are commonly hung in groups of three's, as three pendants assure that each area of the table is well lit. The outer green color not only matches the table below, but shields the light from escaping upward. Why would they not want the light to go up? As players walk around the table, waiting for their next shot, they don't want to squint their eyes. By blocking the upward light, all light is projected down making sure they can make their next shot or trick, perfectly! Today, some modern bars and restaurants continue to use Glass Shade Pendants because of their time tested quality and classic appearance.