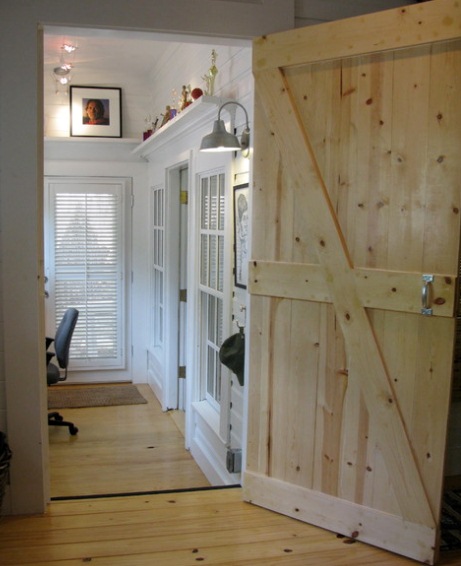 Galvanized Sconce Brings Rustic Barn Character to Modern Home
Barn doors have been popping up in places other than the big building on the back 40 for some time now. Barn doors are rustic yet with an industrial edge, and this custom-made, knotty pine door features a clear stain that lets the grain, knots, and character of the wood show through beautifully. Adding to the barn flavor is the Wall Sconce just inside the next room.
This dandy little fixture looks very much like our Austin Wall Sconce, a compact shade that is perfect for hallways, entryways, or tight spaces like powder rooms or a child's reading nook. The galvanized finish adds a nice metallic touch to the brightness of the room and pulls the barn feel through the door. Wall-hugging sconces are a great choice to highlight artwork such as this without overpowering the space.
You can customize the American-made Austin, which comes in both 8″ and 10″ sizes, in one of our 14 beautiful powdercoat finish colors. A wire cage can be added to this fixture for even more rustic charm. And if you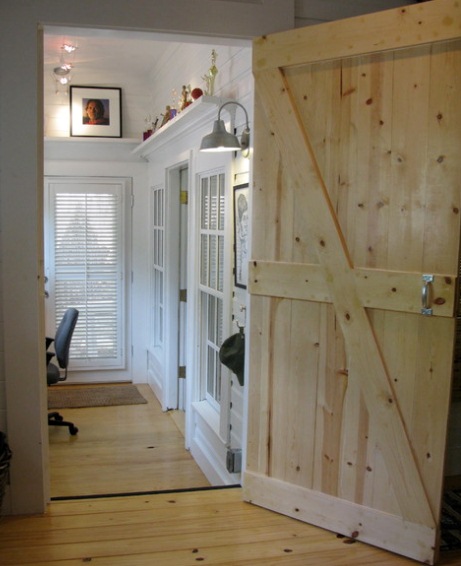 like the look of the Austin but need something a bit bigger for the vanity, check out the Austin 2-Light Vanity Sconce which features a 24″-wide wall plate and two Austin sconces. This fixture is available in the same sizes and customizing options as the Austin Wall Sconce, and the two slender arms position the shades just away from the wall for the perfect angle of light.
Like all of the products we make here on the Space Coast, the Austin fixtures are made to order to your specifications by our own skilled craftsmen. After the finishing process is complete, our assemblers take great care to wire your fixture so that it comes to you ready to hang.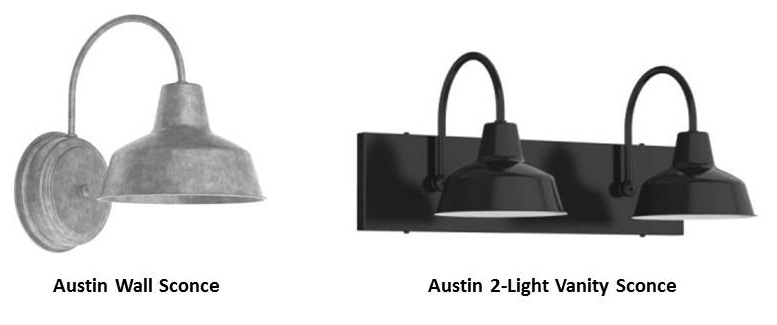 Top photo courtesy Jeanette Van Wicklen